BPM 2018: Top 10 BPM Industry Trends This Year
Pedro Robledo
16 January 2018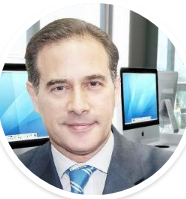 BPM 2018 - how will it be different from 2017 and what are the top 10 BPM industry trends that will shape the future of process management?
The BPM industry has continued its growth of two digits during the past year, responding to the corporate need for better process management in continuous improvement, optimization, governance, risk mitigation, regulatory compliance, cost savings, customer experience, business collaboration and digital transformation initiatives. Growth will be greater in 2018 as BPM becomes even more important for companies in their day-to-day operations that require an unprecedented dynamism, where innovation must be continuous to be competitive, where the analysis of information is crucial and where it is necessary to act with agility and flexibility to meet the needs of customers - this is why BPM is needed even more by companies in 2018.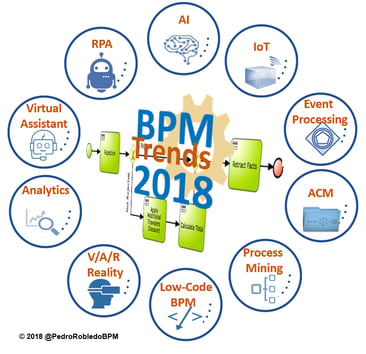 The true picture of process automation is starting to change with the arrival of disruptive and smarter technologies applied to BPM initiatives. They will drive the next wave of disruption, agility and productivity in the digital company and they will lead to great advances in all organizations.
BPM 2018: Top 10 BPM Industry Trends This Year
Listed below are my top 10 Business Process Management trends which highlight both strategy and the hottest technologies that aren't yet widely implemented in BPM initiatives but that will have a greater impact and significant potential for disruption in 2018:
Trend No. 1: Artificial Intelligence (AI) (at any stage of the BPM life cycle)
The application of AI with BPM will now be even more disruptive in the execution of structured and unstructured processes. AI technologies provide sentiment analysis and the possibility to convert unstructured data to something more organized. Machine Learning and Deep Learning are results of a system continuously learning from the workflow information it is capturing when processes are executed in order to improve performance, effectiveness and efficiency of the processes. Process Automation ,using Cognitive Systems, acts according to the most correct decisions based on the previous or real-time analysis.
Trend No. 2: Internet of Things (IoT)
IoT requires an automatic activation of processes or tasks that respond to the information of a sensor on an object; or predictively (condition-based) send orders to the intelligent things to operate unsupervised in a concrete way for a defined period of time. BPM can orchestrate all instances of a process necessary to manage the activity with sensors in real time and can store all traceability.
Trend No. 3: Robotic Process Automation (RPA)
This will be used to automate repetitive and rules-driven business processes that do not require human intervention. In the BPM process flow, some tasks will be automated using bots (software robots) that replicate an employee's activity on the desktop of their computer to process complex operations in the same way as a human but achieving the same productivity. This occurs without errors and provides more time to employees for more important activities.
Trend No. 4: Targeted Virtual Assistants
A trend that will improve the performance of BPM business processes. User task execution with smartphones requires a new intelligent conversational interface based on natural-language. Virtual Personal Assistants will be increasingly more valuable as an intermediary between humans, things and the BPM engine.
Trend No. 5: Near Real-time Event Processing Support
This is important to practitioners of BPM to provide better operational efficiency. Understanding events and triggers can determine certain behaviour patterns that can be used, in turn, to detect problems or opportunities for change. BPM initiatives will increase aggregation of core BPM capabilities with complementary platform elements including event processing, operational decision management and real-time predictive analytics.
Trend No. 6: Adaptive Case Management (ACM)
In BPM, this is required for unstructured and unpredictable processes, where the exact sequence of tasks and activities cannot be determined in advance. The BPM focus will not only be oriented to structured processes, as many workers spend much of their time responding to unstructured and unpredictable work patterns too. these process instances are difficult to automate because it is necessary to respond ad-hoc to each event that is happening until solving the process. In unstructured processes, the end point is known, but the way to achieve the end result is determined by each stage/milestone in the management of that case. Each case will imply a specific sequence of activities and predefined results; hence, to solve these unstructured and unpredictable processes, ACM systems are applied, and this capability has been included by the main manufacturers of BPM systems (normally in BPMS this is called Intelligence BPMS). The rest of the manufacturers will shape their offer to be able to compete.
Trend No. 7: Process Mining Will Begin to Stand Out in the Business World
Currently, companies are not considering Process Mining, however universities are investigating their great potential and applying it to specific projects. Organizations spend a lot of time modelling processes, since they cannot get all the information on what the AS-IS process is like. Process mining techniques allow a party to extract information from event and transaction logs to discover models that describe processes; so it reduces the time necessary to model a process that is then optimized and automated in BPM.
Trend No. 8: Increased Demand of Low-Code BPM Platform Due to Digital Transformation
Organizations are now demanding a fully functional automated process (pilot) that can be personalized in a few days and can be perfectly adapted to the processes of the company. The evolution from BPM to low-code has been in play for several years now. In 2018, many old-school BPM vendors will update their BPM products to provide process-focused low-code platform.
Trend No. 9: Immersive User Experience Requires Virtual Reality / Augmented Reality / Mixed Reality
BPM initiatives will start to include Virtual Reality (3D environment), Augmented Reality (real-time use of data integrated with real objects) and emerging Mixed Reality (extend physical world – touch and sound) to increase the productivity of the employees, as it is possible to use them to enhance design, training, visualization and to provide hands-free information during the execution of any activity of the business process.
Trend No. 10: Augmented, Predictive and Prescriptive Analytics Plugged Into a Process to Drive Autonomous Action
Predictive and prescriptive analytics allows the detection of large data volumes (Big Data), Natural Language Processing (NLP), contextual analysis and active analytics to monitor the progress of activities, analysis of activities and changes around processes aligned to KPIs and strategic objectives. Augmented analytics uses machine learning to enable employees to spend less time exploring data and more time acting on the most relevant insights for executing the business activity.
Planning Your BPM strategy for 2018
In the coming months, many BPM vendors will talk about the challenges and opportunities involved in the shift towards the use of AI technologies in BPM. AI will start to play a key role in digital transformation in all organizations and BPM will see a new disruption from the inclusion of machine learning and new AI features.
For most companies, these BPM industry trends mean that it is the moment when organizations will have to approach their digital strategy and begin to apply it more broadly. Digital innovation in companies requires reviewing all current processes to make the necessary changes to achieve their digital and corporate objectives and for BPM 2018; discipline and technology will play a major role in the things to come.
A Word From Triaster
Discover more about Pedro and his unique insights on business process improvement by visiting his blog.
So what are your Business Process Management challenges/resolutions for 2018? If you have a specific process improvement goal in mind for the year but aren't quite sure how to get there, try filling out this
which we will use to provide you with relevant information to help with your exact business problem...
Related Articles
The Big 3 Problems & Uses of BPM Software in 2017 According to Users
Business Process Management Software Report: Analysing User Problems
The Ultimate Guide to Using BPM Software: 10 Key Steps [Video]
10 Reasons Why BPM is Important for Your Business Improvement Strategy
Pedro Robledo is one of the most influential Spanish thought leaders in Process Management using BPM. He has dedicated himself to promoting industry awareness of Business Process Management in Spain and Latin America for over 20 years. Mr. Robledo is Director of BPM for Digital Transformation Master in Universidad Internacional de la Rioja (UNIR). As BPM Advisor, Consultant and Trainer, he helps Organisations with their Enterprise Architecture, BPMN Modelling, BPM and Digital Transformation initiatives. He is a frequent speaker and presenter at international BPM workshops and conferences. Since 2013, he has participated as a jury member of the WfMC Awards for Excellence in BPM and Workflow. Mr.Robledo is currently an active participant in the Artificial Intelligence and Robotics Research Group in UNIR. He holds a Bachelor of Computer Science from the Polytechnic University of Madrid and also frequently writes blogs on BPM and Digital Transformation.