To answer the question as to 'why BPM is important for your business improvement strategy' it is helpful to first look at the problem. The problem with business improvement is that it's an incredibly broad concept with all manor of voices offering 'best practice' and business improvement tools for success - it can be a needless time suck that offers very little real value.
Today's biggest business improvement hurdle has nothing to do with money and everything to do with the business improvement techniques we are investing our time into and the efficiency gains they are providing in the long run. This comes down to one important commodity...time and answering another important question...what is your time worth to you?
Business Process Management has become the centrepiece of any Business Improvement strategy because it has been tried, tested and refined for the last two decades. With all the increasing white noise and tech innovations surrounding the current Business Improvement landscape, it's important to remember that BPM still provides one of the best ROI benefits in terms of organisation-wide improvement and this in turn creates a strong argument for placing a BPM system at the heart of your organisations operations and devoting your time on making it a success.
According to a Gartner survey, 80% of organisations conducting BPM projects will experience an internal rate of return better than 15% and although many organisations need business process management, few understand the real benefits.
10 Reasons Why BPM is Important for Your Business Improvement Strategy:
1. Business Process Management Improves Efficiency
2. BPM Supports Employee Succession Planning and Knowledge Capture
3. It Provides a Framework for Continual Improvement...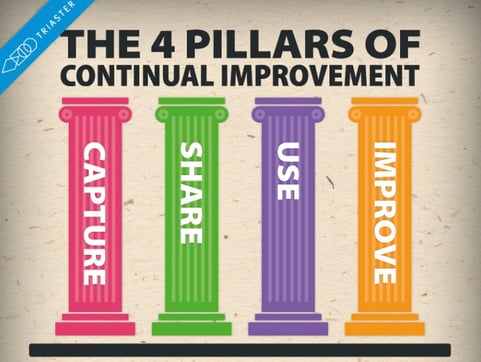 To find out how other organisations have turned their business problems into business improvement triumphs, download the
...
4. You Can Retire Your Paper-based System (and should)
5. BPM Supports the Implementation of Other IT Systems
6. It Will Help Your Organisation to Eliminate Silos
7. It Will Help You Establish an Effective Quality Strategy
8. You can make more reliable changes
9. Business Processes Management Systems Increase Employee Engagement
10. It supports and Underpins a Consistent Working Culture
Watch the video below for a full explanation of all 10 reasons why BPM is important for any modern organisation that is looking to streamline their business processes and make greater efficiency gains...
Thanks for reporting a problem. We'll attach technical data about this session to help us figure out the issue. Which of these best describes the problem?
Any other details or context?
message
It's important to remember that unless you are willing to invest real time into adopting and making a BPM system a success within your organisation, you shouldn't even begin. Re-structuring organisations around the principals of Continuous Improvement and the software that will enable you to get there is more business transformation than business as usual.
If you are willing to put in the work to identify and solve your specific challenges, please click the infographic below which will take you to a 6-question survey that will help us better understand and help you with your unique business challenges...
Related Articles:
Business Process Management for Real People
Understanding Business Process Management: A Beginner's Guide
Capturing a Business Process: 3 Tips for Process Discovery Workshops