The Process Library Checklist: Integrate Your Team With Your Process Software
Brad Fagan
21 July 2017
Triaster customers find our Process Library Go Live checklists very useful. They know that for their Business Management System (BMS) to deliver the most value it must have what we call the 3 'U's - being Useful, Usable and Used.
This article explores the 3'U's concept and how it supports a process culture. First of all though, what is a Process Library?
What is a Process Library?
A Process Library is a database of processes and techniques.

A process library contains processes that describe:
The tasks to be performed - in the form of policies, guides or process maps
The deliverables produced - the outputs captured using templates provided
The process workflow - the inherent dependencies
How the work is to be performed - techniques used
The tools that will be used to perform the work
Employee roles and responsibilities
Metrics used for improving the process
The Triaster platform, as standard, delivers an (or several) easy to understand, easy to use, secure website, intelligently presenting processes, policies, forms and guidance documents. This is our definition of a Process Library.
The implementation of a Process Library in an organisation does not create a process culture. In order to do that your Process Library must be used and it will only be used if it is both useful and useable.

To find out more on the 3 'U's download the white paper explaining it in further detail.
A Usable, Workable Philosophy for Managing Processes
Useful - Your Library must contain accurate and complete information that actually helps your staff to perform their tasks better - a Process Library should meet your requirements before you purchase it.
Useable - The information must be easily understood, easily accessed (ideally quicker than the usual practice) with an interface requiring very little or no training to use. Everyone in your organisation needs to be able to gain access to the Process Library and find the information they need within 3 clicks.
Used - Staff must use their Process Library as part of business as usual with core processes stored there and referred to often. Management must regularly review processes in the Library together with the staff responsible for carrying those tasks out and ensure the information remains up-to-date and accurate.
When your Process Library is ticking the boxes with all three of these terms then you will have made a significant step towards adopting a process culture in your organisation. There is obviously still more to do, but this is the key foundation step.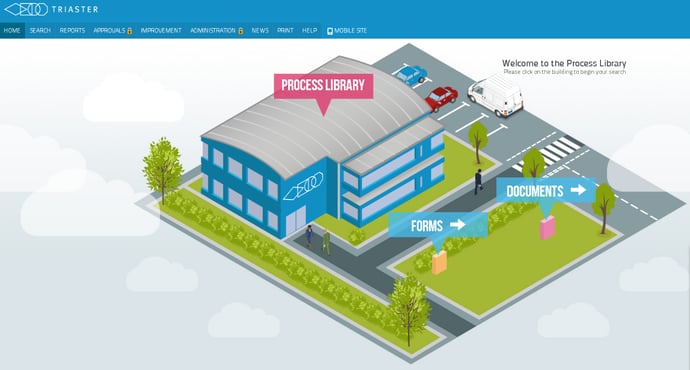 The above and below pictures are both examples of Triaster Process Library designs. We tailor these to the needs of each individual customer, both in the look, feel and capability of the Process Library.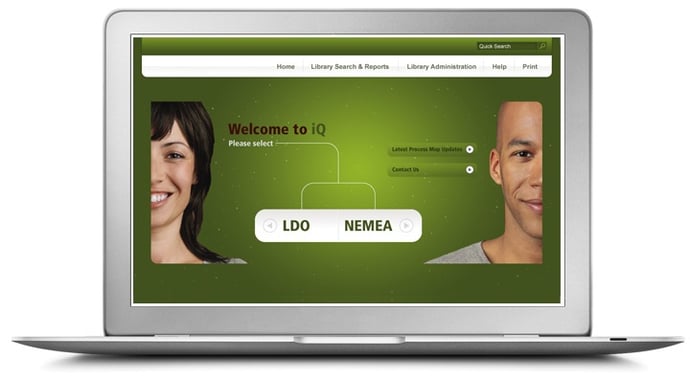 If you are interested in taking a tour through the different Process Library designs we have created for our customers please click here.
Is it Useful, Useable and Used? The Checklist
If you are thinking about getting a Triaster system, this Go Live checklist is a perfect step-by-step guide to making sure that your Triaster Process Library is Useful, Useable and Used. There are three lists, each has one of the 3 'U's as a heading to make sure your system will be as integrated into your organisation as possible on the day you go live with it.
Download our Go Live checklist which provides a complete reference guide to utilising our Business Process Library software...
Related Articles:
Problems with Business Process Management: Stakeholder Buy In
How to move away from a paper-based Business Management System
How do I create a culture of Continuous Improvement?
How to ensure that your Business Process Management (BPM) system will be used: 10 key steps
Brad joined Triaster in 2016 as our Content Marketing Executive hailing all the way from Middle Earth (the film version, not the book) – New Zealand. Brad's video skills soon resulted in new weekly Triaster videos and his individual touch in some of the Connector and blog articles. In June 2018 Brad moved to Germany with his wife Lynn.