How do I create a culture of Continuous Improvement?
Victoria Glancy
24 May 2016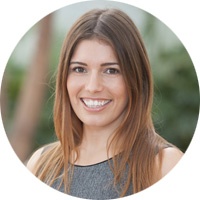 Continuous Improvement is the objective of many organisations. It isn't however something to be done, it is an approach or a culture and as such it can be hard to achieve. In this article I will explore ways to make its implementation both easier and successful.
Firstly though, what is Continuous Improvement?
What is Continuous Improvement?
Continuous Improvement - also known as Continual Improvement, CI, Continuous Improvement Process, CIP and often used interchangeably with the term Kaizen - is a long-term approach to improvement that systematically seeks to achieve small, incremental changes in processes in order to improve efficiency and quality.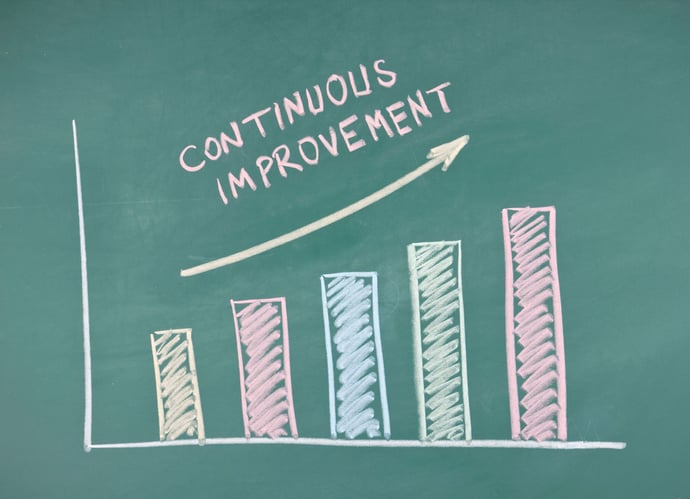 Image from: www.kepner-tregoe.com
This is in contrast to one overwhelming innovation and is a business culture or approach which involves everyone, leadership, management and employees, in finding and eliminating waste on an ongoing basis.
Continuous vs Continual Improvement
Although as we have seen, several terms can be used for Continuous Improvement, the fiercest debate rages between supporters of the term 'Continuous' and supporters of the term 'Continual'. This is semantics. In terms of the improvement approach there is no difference.
For the record though:
Continuous is nonstop
Continual things come and go, like arguments or rain (thank goodness!)
Where to start with Continuous Improvement?
Before a framework of Continuous Improvement can be introduced it is important to have a thorough understanding of how your organisation is working currently. What processes are in place at the moment?
Initially, concentrate your efforts on understanding your processes rather than focusing on your results. This requires discussions with the people who are actively involved in the process and those who are required to manage it, sometime there is a third party involved – a customer or supplier.
A recommended way to understand your processes is to capture them as process maps.
What is a process map?
A process map sets out all the steps and decisions in a process in diagrammatic form. It has benefit over a text based set of instructions in that it captures the steps taken to deliver the process, rather than the tasks. This means a process map is appealing to the eye, easy to follow and isn't too detailed.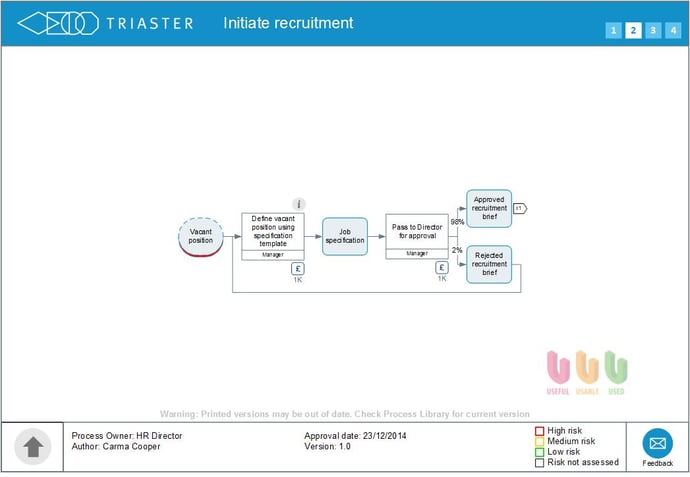 For more detail on process mapping please read: Process Mapping: Who does it and why?
Business Process Management (BPM) System
Once you have captured your end-to end business processes, you have a model of how your organisation works. This can be a standalone model, but more commonly it forms the business management system for your organisation which also contributes to achieving quality standards such as ISO 9001, 14001, 18001, 27001 and compliance with regulatory standards.
This model of how the organisation currently works is the start point for modelling future options. Starting with a gap analysis to identify areas which need most urgent focus – where the waste or risk is highest – a programme for incremental changes can be established.
This is however only the mechanism for Continuous Improvement; implementing a system does not result in a culture change.
Cultural Change
It is fundamental that all employees are engaged in Continuous Improvement in order for it to be successful. This means that there needs to be a big emphasis on employee engagement with business processes and an appetite for a process driven culture at all levels of the organisation, from the leadership down.
This is achieved over time with ongoing communication, but an essential start point is to involve everyone in the process of capturing what the organisation currently does (the process mapping). As part of this everyone should be asking: Why are we doing this? What does it produce? Who is the benefactor of the process? How does it impact our customers?
Continuous Improvement requires a systemic dissatisfaction with the status quo, no matter how good the organisation is perceived to be. There needs to be a collective understanding that standing still will allow the competition to overtake.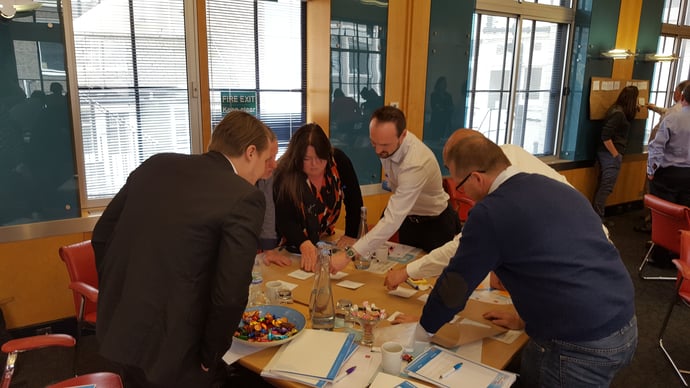 It also requires individuals to feel ownership for their part of the process and a responsibility for its quality and improvement. Using a Business Process Management system which allows this to be clearly identified and visible, really helps to establish and reinforce this.
With these factors in place, employees are empowered to suggest and implement improvement ideas and when the ideas come from the employees themselves there is far less resistance to change and Continuous Improvement is far more likely to be successful.
The support of the leadership and top management is imperative too, as not all the improvement ideas implemented will be successful. There has to be a long term view, an appetite for a certain amount of risk and support when the result are not positive.
Using a Business Process Management system which enables the ability to model future options and the capacity to 'try out' differing scenarios for process improvement, reduces the risk of Continuous Improvement considerably. However the need for a culture of senior support for trying out improvement ideas remains.
Continuous Improvement as Business as Usual
For Continuous Improvement to be successful making incremental improvements must be become business as usual.
Using a BPM system to enable analysis and comparison of processes, benchmarking and being aware of why certain tasks are performed in the first place, puts you in a better position to have a positive impact on business change both in the short and long term, without catastrophic effects to ways of working and delivery.
However the absolute game changer is the employee engagement and empowerment to identify small steps for incremental change. This takes time, commitment and ongoing communication.
I hope that you have found this article enjoyable and helpful. Over the years I have worked closely with many Triaster customers who have successfully implemented Continuous Improvement. They have found the Triaster Business Process Management system invaluable in support of this. Obviously the Triaster system won't suit every organisation but if you are interested in learning more about what we offer please have a look at our approach and/or register for a webinar:
Related articles:
Process Mapping: Who does it and why?
What is Lean Six Sigma: Tools for Process Improvement
In August 2017, Triaster's Client Service Director Victoria Glancy moved on to become the Managing Director of Libreea Ltd. With a background in analytical science, Victoria has honed her analysis and requirement capture skills from working across several industries with the public and private sectors and is very proud of the achievements and progression she made whilst at Triaster. Initially working as Triaster's Customer Project Support Consultant, she learnt 'at the coalface' what is important to a project team implementing Business Process Management and Improvement. From here Victoria became a very successful Client Services Director. With her ability to quickly gain a clear understanding of customers' requirements and how they can best be achieved she was able to successfully support a varied selection of both new and existing customers. As the Managing Director of Triaster's sister company Libreea, Victoria is now building on her experiences further and developing this ability by providing a set of bespoke Business Management Services tailored to your unique business challenges.