Using a RACI Matrix Template for Business Process Improvement
Brad Fagan
2 May 2018
When organisations face the need to create better oversight of their business processes, they implement a RACI Matrix. A RACI Matrix is important for organisations that wish to prevent process failure, identify accountability and responsibility and organise processes so that nothing is overlooked. In this article, I lay out what a RACI Matrix is, why having a RACI Matrix template so important to a business improvement plan and why you need more than just a RACI process to solve business efficiency problems.
Creating a RACI Matrix is usually one of the key first steps to implementing a continuous improvement project within an organisation. It gives a structure to any change initiative by identifying the key stakeholders in a project so they can capture, share, use and improve the organisations business processes effectively.
What is a RACI Matrix?
A RACI Matrix is a visual representation of all the key stakeholders involved in a process and their particular role within that process. The letter assigned (R, A, C or I) determines the level of responsibility the employee has within the process and what level of engagement you will have in any future decisions made in regard to that process. Your RACI Matrix template should contain:
The process

The position involved with that process
The number of people that are involved with a specific business process
What their role is in the process - Responsible? Accountable? Consulted? Informed?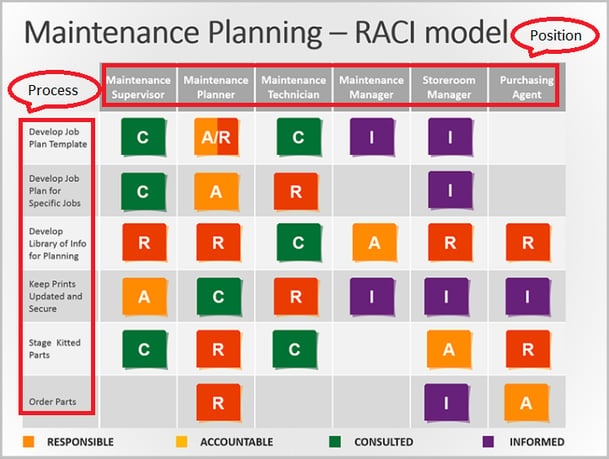 What Does RACI Mean?
Responsible - the person who performs the task
Accountable - the person who is accountable for the process success or failure and usually has the final sign off on any process change
Consulted - the person who needs to collaborate and provide feedback on the process and any future change
Informed - the person that needs to be kept in the loop of any decision or action relating to the process.
Why is a RACI Matrix Template Important?
A RACI Matrix template is important because it holds people accountable for processes and ensures that all those that should be involved with a process decision are properly involved in the RACI process.
Most notably, a RACI Matrix is important for process improvement projects so that process roles can be assigned, process changes can be properly communicated and those who are communicated to are necessary to the process conversation.
Identifying all the key stakeholders involved within a RACI process is a huge advantage because it makes it easy to capture an accurate map of the current process and implement a successful continuous process improvement project.
A RACI Matrix Analysis Can be Used to...
Find overworked employees who are responsible or accountable for too many processes
Organising processes so that nothing is overlooked and every process has ownership - as a byproduct, this means that there is less chance of failure
Assign projects more effectively with process owners, process enforcers and process collaborators all understanding their roles
Document and visually capture the roles and responsibilities which can later be connected to the specific process steps that are being carried out
Assign new employees to processes
Get new employees up to speed quickly by ensuring that when your processes have been captured and assigned to the appropriate job title, the incoming employee can pick up where the outgoing employee left off.
The RACI Six Sigma Approach
RACI and Six Sigma work well together because the Six Sigma methodology of DMAIC (Define-Measure-Analyse-Improve-Control) works best when process roles are identified and carried out to ensure improvement.
DMAIC is a methodology that supports continuous business improvement by encouraging process stakeholders to:
Define the process
Measure the process effectiveness
Analyse improvement opportunities
Improve the process
Control the implementation and maintenance of the improvement
If DMAIC is the approach you are using to improve your organisation, then RACI is how you ensure that methodology is implemented and applied correctly by your employees.
Changing culture is hard, but taking a RACI Six Sigma approach ensures that you can identify:
Where the process is breaking down
Why the process is breaking down
Who is responsible for the process breaking down
Who is accountable for the breakdown and engaging the process stakeholders for improvement discussions
Who needs to be involved in any improvement discussion
How you can improve the process after analysing the key data
Who is responsible for seeing that any change is implemented and controlled correctly.
The RACI Six Sigma approach (RACI and DMAIC) provides the method for successfully engaging continuous improvement and implementing both, as a one-two punch, will tighten up your organisation's processes and ensure that your entire team is organised and structured as effectively as possible.
You now have a method of ensuring continuous process improvement, but you still need a platform to ensure that your DMAIC and your RACI are captured in the correct format and structured in a way that it is useful and useable to all the stakeholders.
This is where Business Process Management software comes in and why it is so important for companies with many business processes.
Using a RACI tool Within a BPM System
A RACI tool can be used to run a full RACI analysis report to display job roles and responsibilities. This can take your business process maps to the next level and make them so much more useful, useable and used.
Using A RACI Matrix Template Within a Triaster System
In order to show you how RACI is visualised within a BPM system, I am using the Triaster Platform to demonstrate how much easier a RACI Matrix template can be utilised and controlled within a BPMS.
In the process map below, you can see how many people are involved in each process step (from a RACI process perspective):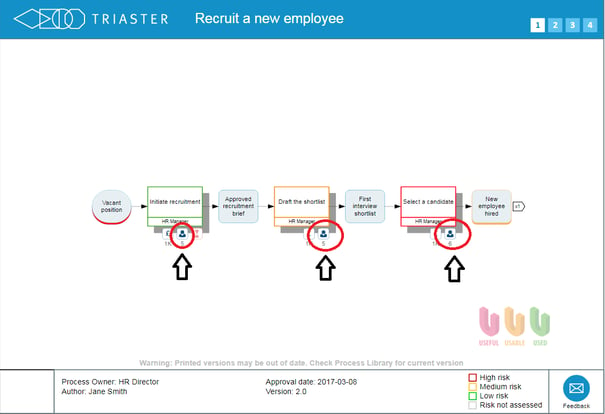 By clicking on the icons within the red rings above, a Properties file is displayed (with RACI displayed on the left and the job roles assigned on the right) which you can see in the image below: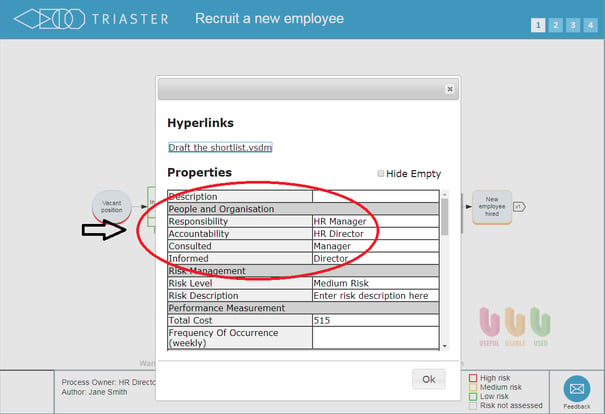 It is best practice to record Responsibility, Accountability, Consulted and Informed on all of the business Activities. Some of the customers I deal with dilute this slightly, as obtaining all of this data initially can be hard work - so they decide to record Responsibility and Accountability only to start with (but consulted and informed are still very necessary for your DMAIC process.
If you would like to take your own tour through our interactive process library and try these tools out for yourself, then please go to the interactive process library page.
The image below shows how you can display who is responsible for carrying out an activity beneath the shape: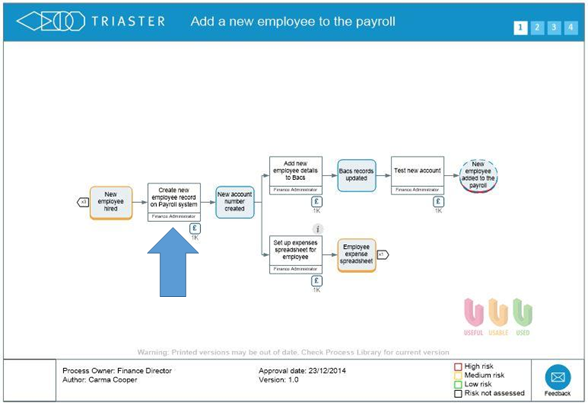 The rest of the RACI data is recorded behind Activities in Properties, this is accessed by right clicking the Activity and clicking Properties. The Properties can also be updated in bulk using Microsoft Excel.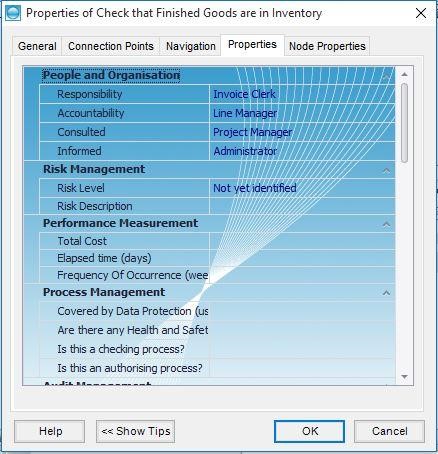 Recording the RACI Matrix behind Activities enables RACI searching and RACI reporting capabilities within the Triaster BPM system.
BPM can also help to identify all the RACI process data for a specific role. By choosing a role, such as HR Manager, you can display all the Activities that specific job role is Responsible for, Accountable for, could be Consulted on or needs to be Informed about.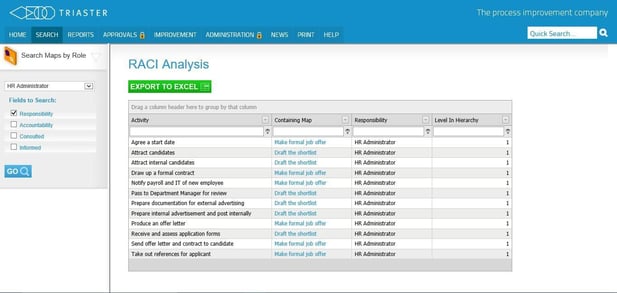 You can also view a full RACI Matrix for the whole organisation by running the RACI Analysis report. It will display every Activity within the Triaster BPM system along with its RACI process data. This can also be exported to Excel to further interrogate and manipulate.
I would also recommend using job roles rather than recording the employee's name in the RACI Matrix so that when people move outside of the organisation, you won't have to update the information.
Other Useful RACI Help a BPM System Can Provide
Record Process Management Data - this can include the

Process Owner, Business Function, Author, Approvers, Reviewers, Version, Revision, Change Data and Change Description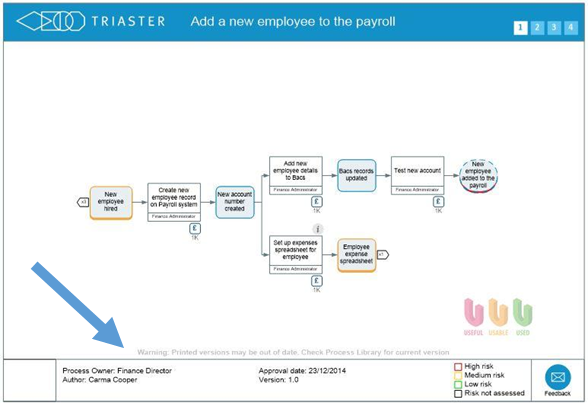 .Using RACI Process Alerts - Some of the properties mentioned above (Business Function, Approvers, Authors, Reviewers) can be linked to an automated alert. For example, stakeholders within the organisation can receive an email notification when a new process map relating to their team/function/department is produced
A RACI Matrix can be a great tool to use, but used on its own, it has limitations. Business Process Management projects are best served with a complimentary improvement methodology like Six Sigma and a BPM system.
There are many systems out there, some cheaper than others, but the important thing is to find out exactly what your business need is before you attempt to solve your problem.
If you need help in identifying your specific business problem and how to solve it, try filling out the
which will allow us to understand your problem better and email you the right information to solve your specific process problem.
Related Articles
RACI Matrix: Chart, Model and Discover How to Identify the Process
Process vs Procedure: How to Document Processes and Procedures
Visio Process Mapping: Getting a Visio Compatible Process Management System
Brad joined Triaster in 2016 as our Content Marketing Executive hailing all the way from Middle Earth (the film version, not the book) – New Zealand. Brad's video skills soon resulted in new weekly Triaster videos and his individual touch in some of the Connector and blog articles. In June 2018 Brad moved to Germany with his wife Lynn.