How this Successful Process Improvement Example Resulted in £350k Savings [Infographic]
Lynn Dudenhoefer
27 February 2018
Successful process improvement examples are often hard to come by. Tangible information about real-life savings remains difficult to access. Many businesses refrain from sharing their Process Management results, leading to a lack of transparency in terms of monetary savings within the continual improvement market.
Triaster's customer New Charter has decided to share some actual measurable data surrounding the savings and ROI benefits of successful process mapping. The results are very impressive.
The Initial Phase: Identifying Inefficiencies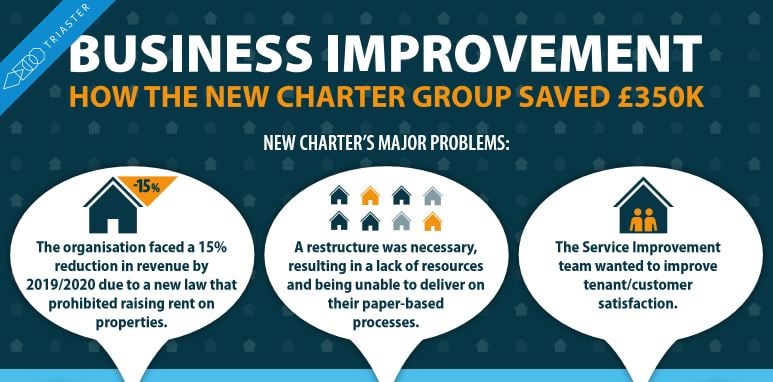 Through reducing waste and cutting their paper-based processes, the New Charter Group managed to save £350k per annum. Their business process improvement journey was kicked off by identifying three initial problems:
The organisation faced a 15% reduction in revenue by 2019/2020
A restructure was necessary, resulting in a lack of resources and being unable to deliver on paper-based processes
The Service Improvement team wanted to improve tenant/customer satisfaction
Confronted with these three issues, the Service Improvement team knew they had to act. The decision was made to map out the end-to-end processes of the entire tenancy lifecycle, despite the fact that the Service Improvement team had so far only used process mapping on an ad-hoc basis and was lacking the much needed process improvement experience.
The 'How-To': Process Improvement at its Best
This is why, after an initial BPM trial with Triaster, New Charter's Service Improvement Manager Emma Woodrow and her team decided to purchase the business process management software. From that very moment on, things were set in motion:
The Service Improvement team started with a process capture workshop, inviting all the key stakeholders for the Keys-to-Key process..
The team went on job-shadowing excursions to ensure that the processes as mapped were what actually happened in reality.
As well as capturing the processes, the data was captured too. Using a bespoke properties file developed by Triaster, the team was able to automatically calculate the cost of every activity.

The team then

mapped the AS-IS of the entire keys-to-keys process (about 280 process maps), which exhibited great potential for process improvement.
Finally, New Charter's Service Improvement team completed the modelling of the TO-BE processes and investigated ways of replacing paper-based processes with mobile applications
These mobile solutions were then specifically designed to address the New Charter Group's key challenges
The Successful Process Improvement Example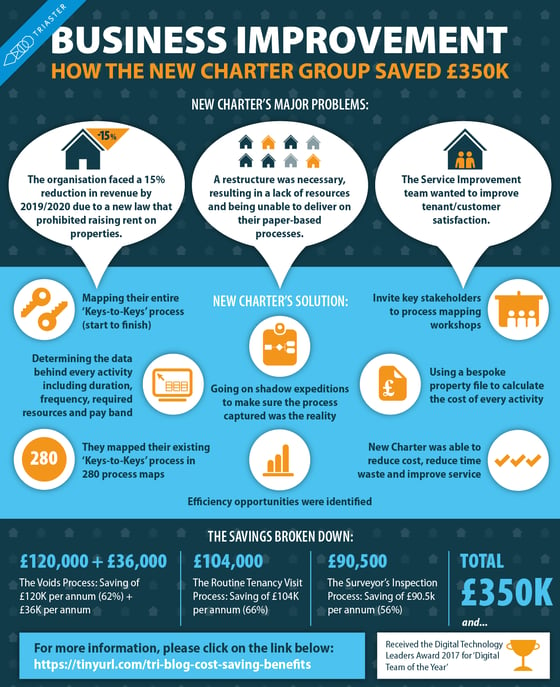 Fortunately, Emma Woodrow wants to share her team's business improvement success, and thereby foster a trend of honesty and transparency. The real-life savings of the New Charter Group are an amazing example for the benefits of business process mapping.
By using one of Triaster's bespoke property files, New Charter's Service Improvement team were able to identify the data and cost behind individual activities, consisting of properties such as:
Duration
Frequency
Required Resources
Pay Band
By improving their tenancy processes, the New Charter Group saved a total of £350k per annum. This can be broken down into:
The Voids Process: £120k + £36k of savings per annum (first and second assessment)
The Routine Tenancy Visit Process: £104k per annum (66%)
The Surveyor's Inspection Process: £90.5k per annum (56%)
After setting a successful example of continuous process improvement, the New Charter Group did not only end up with process improvement savings of £350k per annum but also won the Digital Technology Leader Award 2017. You can download the full case study on the New Charter Group success story below:
For the near future, the New Charter Group are now committed to continual improvement and identifying other areas with additional potential for restructuring.
If you are keen to learn more about improving your own business processes and save yourself time and money by using Business Process Management software, feel free to have a read of our
or simply click below:
Related Articles:
Calculating Return on Investment (ROI) on Business Process Management (BPM)
This is How to Get the Best ROI From Process Mapping Software
How to Calculate ROI on a Project Using Business Process Management (Video)
The 4 Essential Pillars of Business Continual Improvement [Infographic]
Lynn joined Triaster in November 2017 as the new Inbound Marketing Executive. Prior to her work with Triaster, Lynn worked in content management and studied at the University of Oxford. In June 2018 Lynn returned to Germany with her husband Brad.