How Much Does Business Process Management (BPM) Software Cost?
Emma Harris
4 August 2016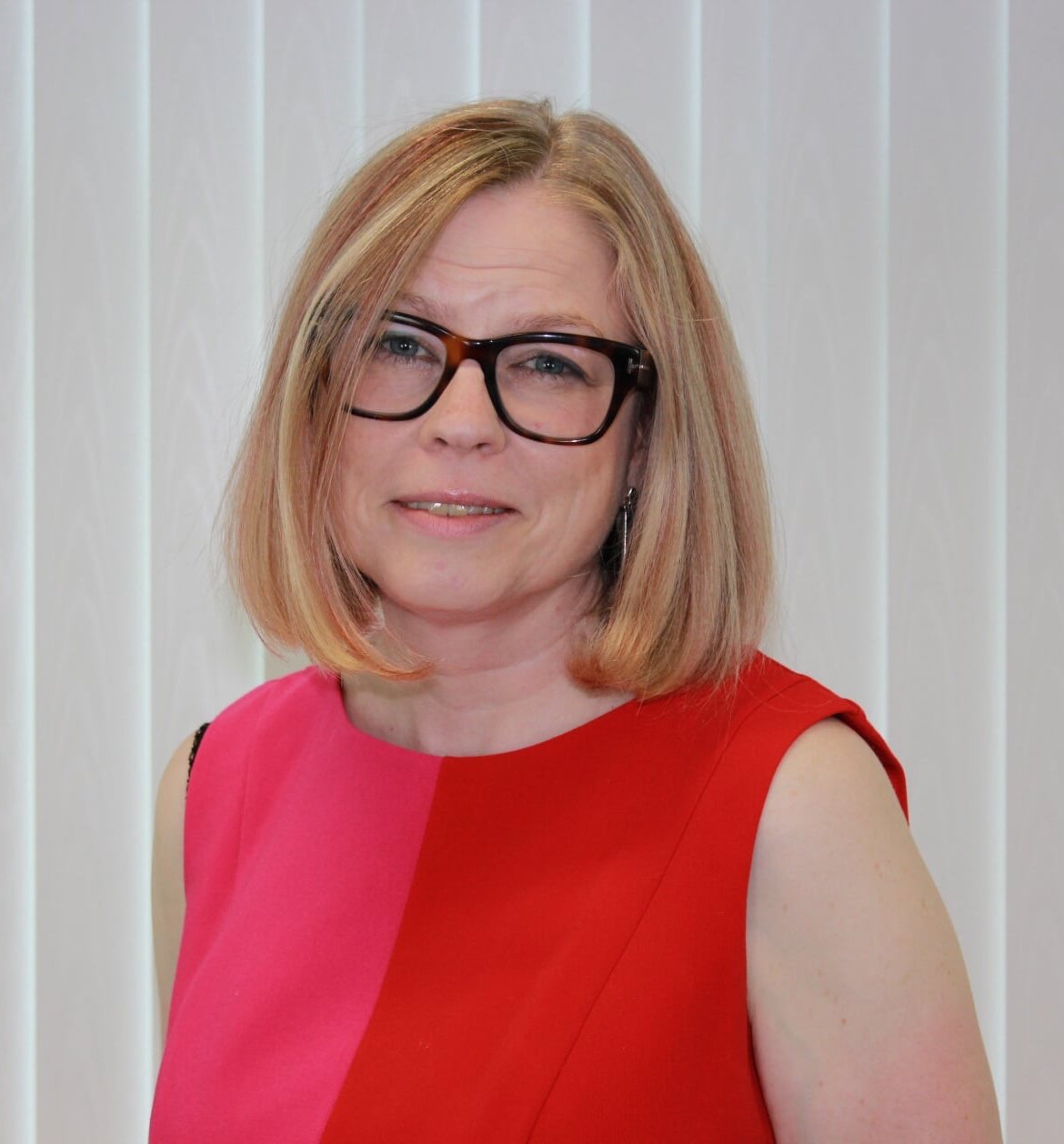 If you are reviewing the marketplace for a Business Process Management (BPM) software system, one of the key questions that you will want answered is: How much does it cost? However, because any BPM software system is an extremely flexible package, it can and should be tailored to your organisation's individual requirements - to meet a set of specific objectives. Accordingly the answer to the question, 'how much does it cost?' is almost always, 'well, it depends on what you want.'This, of course, does not help when you just want a ballpark figure of what the BMS software cost will be so that you can determine if an approach is within budget. It also doesn't help to give you an idea of the budget needed before you start spending time evaluating the detail of the different systems available.
A BPM software system is made up of:
Software

Support and maintenance

Services
In determining what you want – and therefore how much it will cost - you need to think about your requirements for all three.
Software
Before you decide on any of the software features, you will need to decide whether you want an online system (hosted in the cloud) or an on-premises solution which is hosted on a server and managed by your organisation.
At Triaster, we offer both of these options but recommend going for the online approach.
Support and Maintenance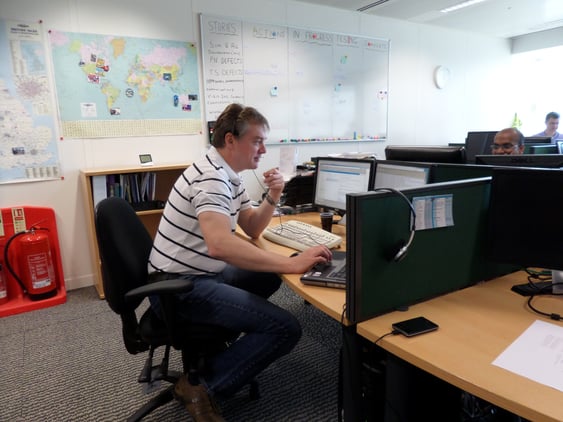 Support is help desk support – support available when you have a query with the software, either regarding how to use it or when it isn't working. Often vendors separate e-mail from telephone help desk and charge different costs for each.
On-Premises
If you are looking for an on-premise option then maintenance's required to keep your software current and compatible with other software. For example, the minimum system requirements for Triaster's software include Windows Vista, Windows 7, Windows 8 or Windows 10. These are updated frequently.
Maintenance releases are therefore needed to stay compatible with an on-premise software system. Maintenance releases also address any software issues.
Maintenance is essential for on premised software, but Support is optional – although generally recommended.
Online
If you are looking at an online option, hosted in the cloud, the implementation typically is more standard and uniform which means that deployments lead to much reduced need for your I.T. team to spend time with the software support team.
Maintenance and support are far easier due to this uniformity. Generally there is no set-up required, no on-going software or server costs; which means this option is generally the less painless one and means that it is easy to scale up or down and support.
BPM Training and Services
This is where the options really start to ramp up and in order to decide what you need, you have to think both about what you are wanting to achieve and the resources that you have available to enable you to do so.
It may be that you are purely looking for a software platform, but even so, on-boarding services are often obligatory or if not, highly recommended.
Most people looking to implement a BPM system are looking for help, not just with installing and using the software, but with achieving their specific end objectives. These could be perhaps consistent processes or implementation of best practice processes across their organisation.
They are looking for expert advice on how to achieve this – one of the very common questions we are asked at Triaster is, "how do we ensure that the BPM system will be used, once it is implemented?"
Many Business Process Management software providers offer services to directly address this challenge, which very many customers purchase - not all however.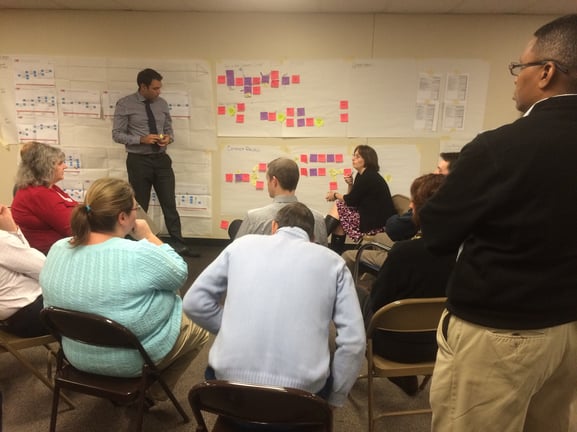 Another area where customers often require additional support is process mapping. A key component of any successful BPM system is the content. Do you have sufficient resource in-house to capture accurate, useful content? If not, you will need process mapping services and need to factor in the cost of these.
Some of the most common services you might find offered by BPM software companies - which normally require additional add-on costs include:
BPM System Design:
Bespoke Front-end (Home page) Design

Process Map Stencil and Template Customisation

Data Visualisations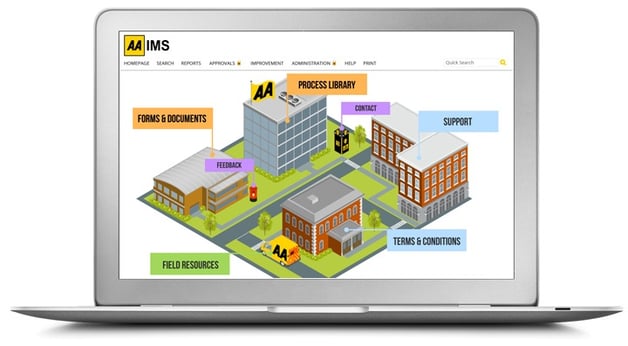 Bespoke Home Page design for the AA
Professional Services:
Facilitated Discovery Workshops

Process Mapping Services

Conversion Mapping Services

Communications Package
Training:
Additional Process Mapping Training
Technical:
Technical and Integration Consultancy Services

Report Creation and Customisation

Analytics Enablement

Search Customisations and SharePoint Integration
Triaster and sister company Libreea, offers all of these services at an additional cost.
For details of Triaster's additional services please click here.
For details of Libreea's service options please click here.
Triaster's Business Process Management System - What Does it Cost?
The best way to determine what a BPM system is likely to cost, is to use our own system as an example. Obviously, pricing will differ from company-to-company, system-to-system, but the structure, add-ons and services are not unique and should give you an idea of what you will be looking to pay for a Business Process Management system, delivered at this level of functionality and offering this level of capability.
Using Triaster's online Business Process Management system as an example, we will lay out the three different systems we provide, the system costs and the additional add-on information below.
BMS Software Online: Standard & Professional Systems
The Triaster Platform is offered in two online (or in the cloud) systems: Standard and Professional.
Each system offers, as standard, an easy-to-use secure website presenting all processes, policies, forms and guidance documents according to the functionality that your organisation needs.
The Triaster systems are typically hosted online. However, we do offer both Standard and Professional systems hosted on-premises - for information on this please click here.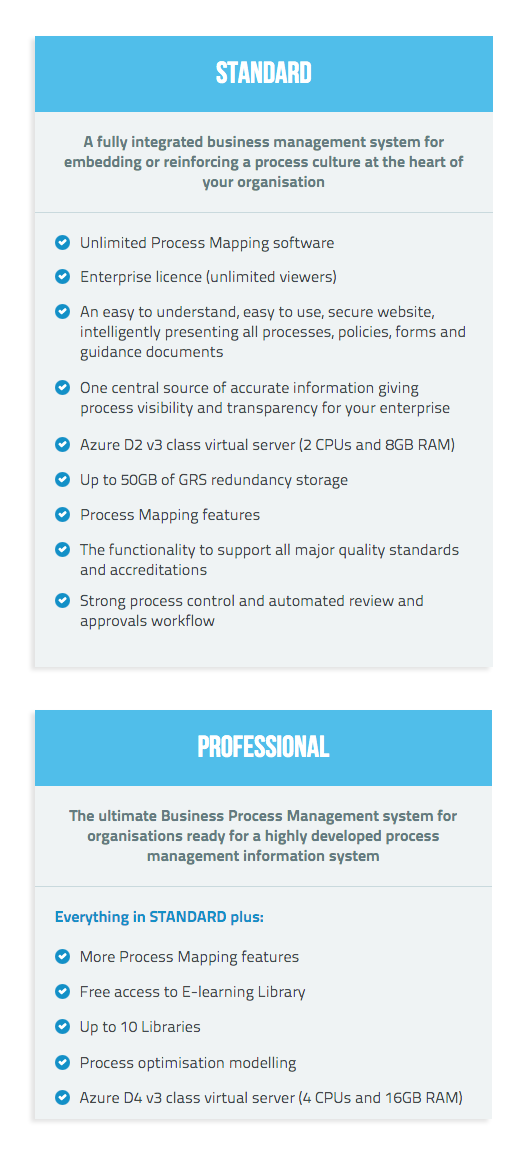 Each system offers different functionality to deliver on the following requirements:
Sharing Processes

Drive-up Process Adoption

Finding Your Processes

Controlling Your Processes

Improving Your Processes
A full and comprehensive list of what each system comprises is broken down on in the System Comparison matrix on the pricing page. It is quite long, so do make sure to scroll right to the bottom for a full explanation of the process features that deliver on the requirements mentioned above.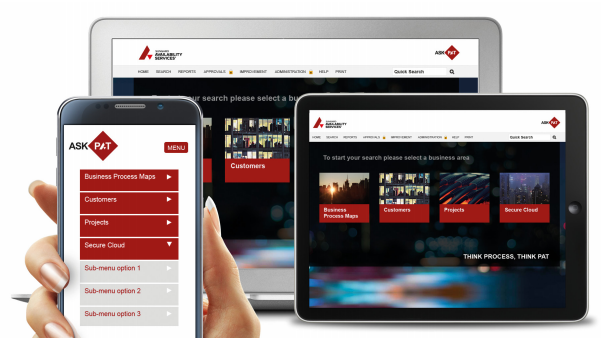 Mobile view of Sungard AS BPM system
So What is the Cost of BPM Software?
As I hope is clear from what I have already written, this will depend on what you need/want from the options available – both software and services. But I promised you costs. So I have set out below the cost for each of Triaster's Systems for the typical Triaster customer.

All costs net of VAT and expenses
Each system comes with a different managed services package, which you can upgrade or downgrade to your liking the cost of the default package is included in the above cost.
Managed BPM Services: Infrastructure & Support Services
The Managed BPM Services packages that are offered, vary according to the System purchased.
There is also a wide variety of additional services including process mapping, design consulting and implementation, professional services and technical services.
For example, if you would like a bespoke homepage design, tailored towards your specific organisation, this would be an additional cost of £13,000 per design on average.You can see all the pricing for these here.
If you would like a more detailed quote tailored towards your organisation's business needs or would just like to understand the pricing information better then please do contact us for a free quote.
Get the Most Out of Your Business
I hope that this has helped to at least give you an idea of the cost of a BPM system purchased from Triaster. Also the factors that you will need to think about in order to estimate pricing when talking to any other BPM vendor.
Do remember that the costs set out in this article are only the external costs (to your organisation). There will be internal costs to be calculated too.
This is an updated version of an article originally published in March 2016.
Related articles:
5 Reasons your Business needs Business Process Management
5 more Reasons your Business needs Business Process Management
7 Key Questions to ask when shopping for Business Process Management software
Emma was Operations Director for Triaster for nearly 20 years, during which time as well as learning and perfecting her BPM and process improvement skills, she honed her inbound marketing expertise. She now runs D2e - Designed to engage - which designs and develops bespoke, engaging, HubSpot CMS websites, that help your entire company to grow and scale. She is delighted to still be delivering Triaster's marketing, whilst also helping other companies turn their websites into their hardest working asset.