7 Useful Tips to Transition to ISO 9001 2015 [Infographic]
Brad Fagan
27 September 2017
Because it's now less than a year to go to become compliant with the latest ISO 9001 2015 quality standard, we are ramping up our efforts to get you ready.
Today's quality offering (pun intended) is an infographic with 7 'ISO transition tips' and a white paper written by ISO 9001 Standard expert Mark Braham (which you should really download and read now if you haven't already).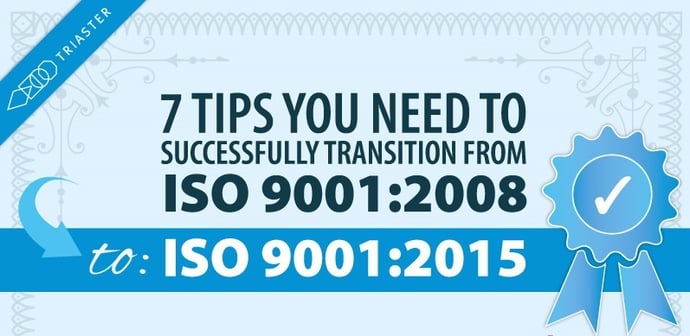 ISO 9001 Standard - Planning to Transition to 2015
September 2017 is the month we are encouraging all quality professionals to start seriously considering their ISO 9001 certification plan from the 2008 version, to the 2015 iteration.
If your company is in the position where it needs to transition, then you need a plan and these 7 tips are here to help you create a plan that will help you put one foot in front of the other until you get to the proverbial 10,000 steps necessary to go from 'oh no' to ISO...9001 2015 - and you won't even need a Fit Bit to do it.
The 7 ISO 9001 2015 Standard Transition Tips
We could tell you that "these tips have been carefully curated from the wisdom of Tibetan monks, left to ferment in a bottle and unleashed in the form of the brilliant infographic you will see below" or we could just say that we have compiled the best information on ISO 9001 2015 from ISO and other respected institutions and experts.
Understand what the standard is
How it's different from the previous version
How it will work with your current management system
and how to plan, prepare and transition successfully to ISO 9001 2015
Please be aware that there is a more in-depth explanation of each of these 7 terms included directly below the infographic and although the links on the infographic aren't directly clickable on this blog, each link is included in that same explanation of the 7 terms below.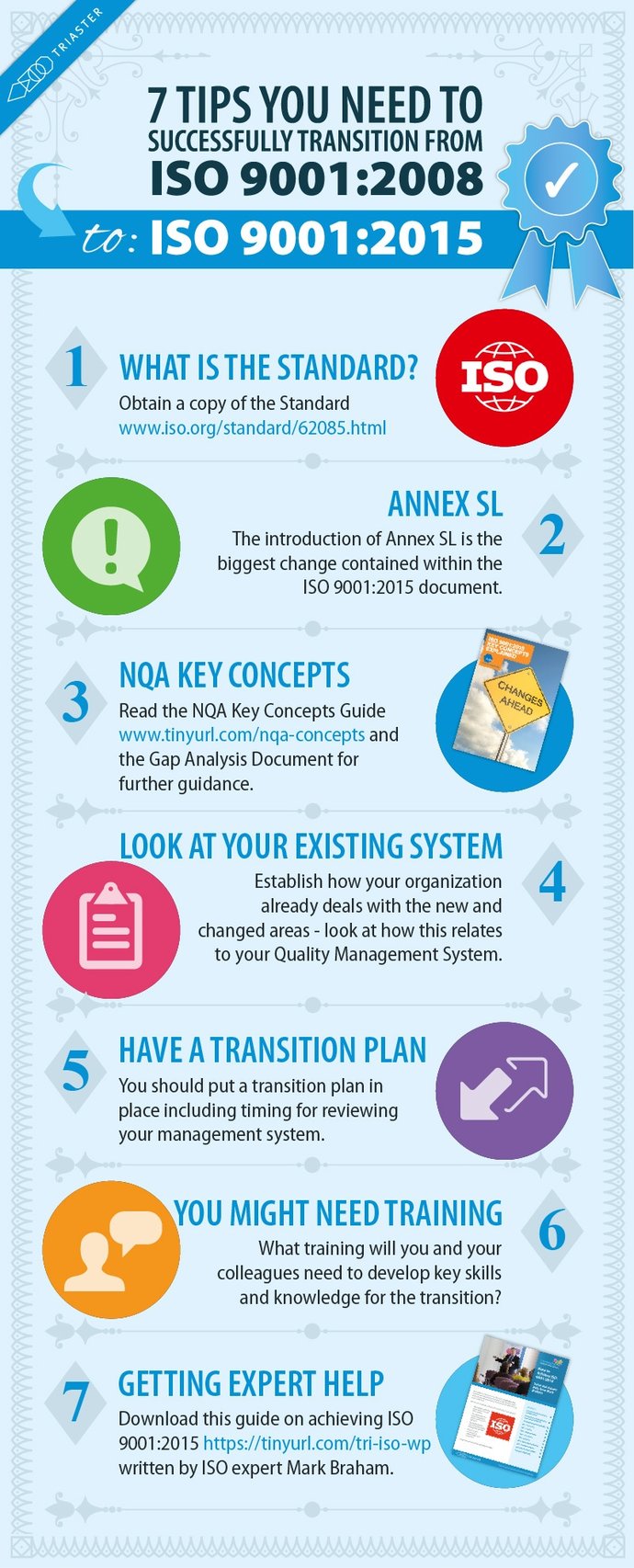 The 7 ISO 9001 2015 Transition Tips Explained
1.
What is ISO 9001: 2015?
Obviously it will come as no shock to you that the 2015 version of ISO 9001 is different from the 2008 version. In order to really know what has changed, go straight to the horses mouth and obtain a copy of the standard
2. ANNEX SL
No it's not a shirt size, it's the biggest change contained within the new standard and you might want to pay attention to it because according to the NQA:
"Annex SL provides the new high level structure for ISO management systems standards - it replaces the historical ISO Guide 83 and expands on the base structure already implemented."

It's creation was in response to a perceived need to introduce identical core text and common terms and definitions which will...
streamline standards
encourage standardisation
ease the integration of management systems
3. Read the NQA Key Concepts Guide
If you've gotten to this point then you've already read a copy of the new standard, now it's important to understand the key concepts with this short and helpful guide from the NQA which is only 1-page long.
4. Look at Your Existing System
That's enough of the theory, now it's time to get into the practical application. One of the most important tips for transitioning to ISO 9001 2015 is to look at your existing systems and how your Quality Management System already deals with the new and changed areas. By analysing what is currently, you will be better placed to know what changes you will need to make to become 2015 certified.
5. Have a Transition Plan
This seems fairly obvious but must be emphasised because quality professionals often mistake planning with 'planning to plan'. What I mean by this is that planning needs to be a serious consideration that takes into account what is and what needs to be and then creating a map on how to get there. Planning to plan is based on 'intentions' mostly all the way up to an approach that does not take into account research, strategy, your current Quality Management System and how it aligns with the 2015 version of the standard.
6. You Might Need Training
There are a whole range of training options available for the new standard and if you're struggling, you should definitely pursue this avenue.
7. Get Expert Help
The last tip involves a white paper written by one of the co-authors of the ISO 9001 2015 standard, Mark Braham. This white paper is particularly useful because it doesn't just look at the new standard and the 7 Quality Management Principles, it also looks at what auditors are looking for to award certification - which is very valuable indeed.
If you would like to pick Mark's brain, download his white paper here.
Related Articles
How to stop ISO Certification running your business
Achieving ISO 9001 2015 with Business Process Management (BPM)
Brad joined Triaster in 2016 as our Content Marketing Executive hailing all the way from Middle Earth (the film version, not the book) – New Zealand. Brad's video skills soon resulted in new weekly Triaster videos and his individual touch in some of the Connector and blog articles. In June 2018 Brad moved to Germany with his wife Lynn.