What Good Are Your Process Maps if Nobody Uses Them? 5 Integration Tips
Brad Fagan
29 August 2017
I wrote this 'process mapping how to' guide because I've heard more than one dejected process maps enthusiast say "I've invested X amount of money/time/resources on a project to get all of our processes mapped out and now that it is complete nobody is using them!" Process Mapping is still the most successful business improvement tool providing the most useful ROI benefits for any company and can be used by anybody but when you can't get them used organisation-wide, all the improvement methodologies in the world aren't going to help your processes improve.
If you are looking specifically for a resource to help you to create great process maps, then download our
- an extremely useful resource for process improvement mapping, otherwise, keep reading below.
Given that you will have to invest time, effort, money and resource on your process mapping project, here are 5 tips to make sure your process maps get used by the audience they were intended for.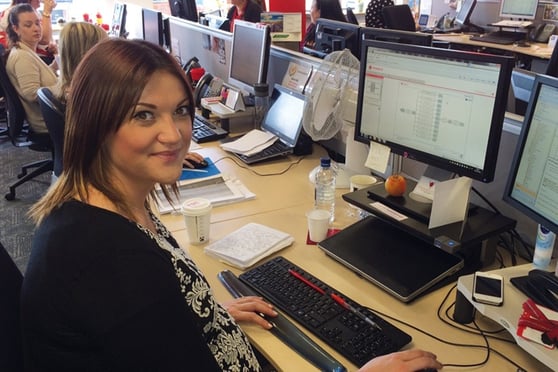 1. Ensuring Process Maps are Used: Ease the Transition
I have been involved in a few projects where organisations are trying to change from ones which have historically always used procedural and work instruction documentation, to more process driven organisations. I have also been involved in projects where organisations have no documentation and are trying to change to a more process driven one.
In both of these instances I would always recommend making the transition as easy as possible, and one way of doing this is choosing a simple process mapping methodology – one which is simple for authors to create process maps using and one that is especially simple for your audience to interpret and digest.
At Triaster, we advocate the Noun-Verb method when advising people on how to create a process map. This methodology is very simple to use as an author, and very simple to read. Your audience should need little or no training when using Noun-Verb, as it is very clear not only what activities they and their colleagues should be carrying out throughout the process, but also what deliverables should be produced as a result of carrying out the activities.

2. Keep Process Maps Up To Date
If you have been a victim of outdated process documentation in the past, you will know that it is very frustrating. You can be carrying out a task specifically as set out, however if the documentation is out of date, or not updated to reflect recent changes in the organisation then you will be wasting your time. Worse, you won't trust that source of documentation in the future.
Your Business Process Mapping tool should have a workflow built in to help manage this. I'd recommend sending every one of your process maps through an approvals process to ensure that they are accurate, and signed off by subject matter experts, as well as heads of departments.
Set your BPM tool up so that it will notify the map's author if changes are required during the approvals process, and ensure that the change history is recorded for auditing purposes.
You should also be able to set your BPM system up to fire out a reminder in 6 months (or whatever an acceptable time period would be in your organisation) to ask the approvers of the map to take another look and confirm that the process is still accurate.
If you are already doing this – then 10 points to Gryffindor, if not, take a look here and see if Triaster can help.
Your BPM system should be able to wrap its big arms around a process map when it is submitted to the system, and take it on a journey through to a live publish, updating the version and revision as it goes.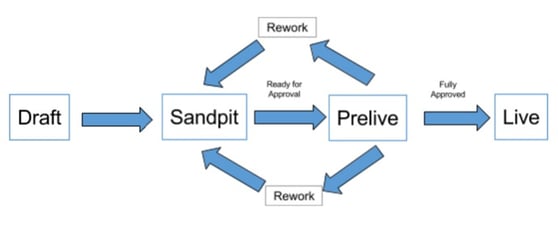 3. Make Sure Your Process Maps are Uniform
I have already mentioned above how choosing a simple to use and understand process mapping methodology will help to drive the use of the process maps within your business. This will also help here.
Make sure that the same methodology is used on every process map you create. Whether you use a simple methodology such as Noun-Verb, or a more complex to use and understand methodology such as BPMN2 or UML, make sure that you are creating a culture of uniformity among your process maps.
The next tip goes hand in hand with choosing a simple methodology – ensure that all of your process map authors are using shapes from the same limited stencil. This way when your audience sees an Activity, for instance, they will instantly know what that shape is, rather than having to look it up in a user manual or a key.
If each of your process mappers is using a different shape set, then how is one of your audience to know the context of the different shapes, you should make it as simple as possible for the end users to be able to interpret the information at a glance, rather than having to study the map.

4. Make the Detail Appropriate to the Intended End User
Firstly think: Who is my audience? And, what do they want to see?
The level of detail that you want to include in your process maps will depend on the audience you are writing for. For more on this please click here.
If you are creating content for a general 'how to…' process library, you want to be creating maps at the level just above work instruction. To do this, ensure you are not including button pushing tasks on the maps.
Your end user will likely be looking for a path from start to end with sequential steps outlined telling them 'what to do' rather than 'how to do it'. For example, at this level, an activity could read 'Update sales system with order details'. Clear and concise. You can then attach the relevant procedure or work instruction to this activity to provide the 'how to' detail.
Keep it simple and make sure your activities aren't too wordy, the detail can be kept elsewhere (procedures and work instructions), your process map should be as simple as possible to read and understand.
If you are creating content for an improvement or business analysis library, you may want to map at a lower level of detail than you would for a general 'how to…' process library. So, rather than your activity reading 'Update sales system with order details' you could drill down in to the detail and outline each of the specific tasks that would be necessary to complete this activity: 'Open sales system', 'Input order number', 'Attach purchase order'. In doing this, you are then able to attribute metadata to each individual task (timings, costs).
Always have your intended audience in mind when creating process maps, this will ensure you are delivering what is expected, and that the content is Useful, Usable and Used.
5. Ensuring Process Maps are Used: Make them Easy to Access
To ensure that people use your process maps, access to them should be as easy as possible. Many of our customers have a direct link to their process libraries on every employee desktop, or link to it from their intranet site, both great ideas for ensuring that your end users have the information right at their fingertips.
Your BPM system should have the ability to be used on mobile devices – so that mobile or remote employees have access to process maps, related links and the associated data on the go. Get in touch with us to see how we can help with making your BPM system mobile compatible. This has proved to be a very useful addition to some of our customers, whose employees spend a lot of time working out in the field.
Take a look here at an example process library, and notice how the accessibility is very simple. The library is broken down by department, and then by subject within the department, then into a process list, from which end users can choose which process to view.
Notice the Quick Search at the top right also, which picks up on keywords, and provides really quick access without having to follow a menu structure.
Process Mapping can be the simplest, most effective use of time in a business and it can also be a useless, time-sucking venture. It all depends on how you approach the integration with your management system and whether that management system is being used organisation-wide. To take a look at Triaster's simple Noun-Verb methodology and how it allows you to capture, measure and improve your business processes...
Thanks for reading! Are you struggling with process mapping? Leave a comment below - we would love to hear from you and if you would like to share with others, please use the social sharing buttons below.
Related articles:
Mapping business processes: What level should I map to?
What is the Noun-Verb Methodology of Process Mapping
Common Process Mapping shapes and their definitions
The 3 'U's of Great Process Libraries
What is the cost of Process Mapping software? (Features and Pricing)
Brad joined Triaster in 2016 as our Content Marketing Executive hailing all the way from Middle Earth (the film version, not the book) – New Zealand. Brad's video skills soon resulted in new weekly Triaster videos and his individual touch in some of the Connector and blog articles. In June 2018 Brad moved to Germany with his wife Lynn.