How Much Do the Triaster Online Platform and BPM Services Cost?
Emma Harris
22 February 2018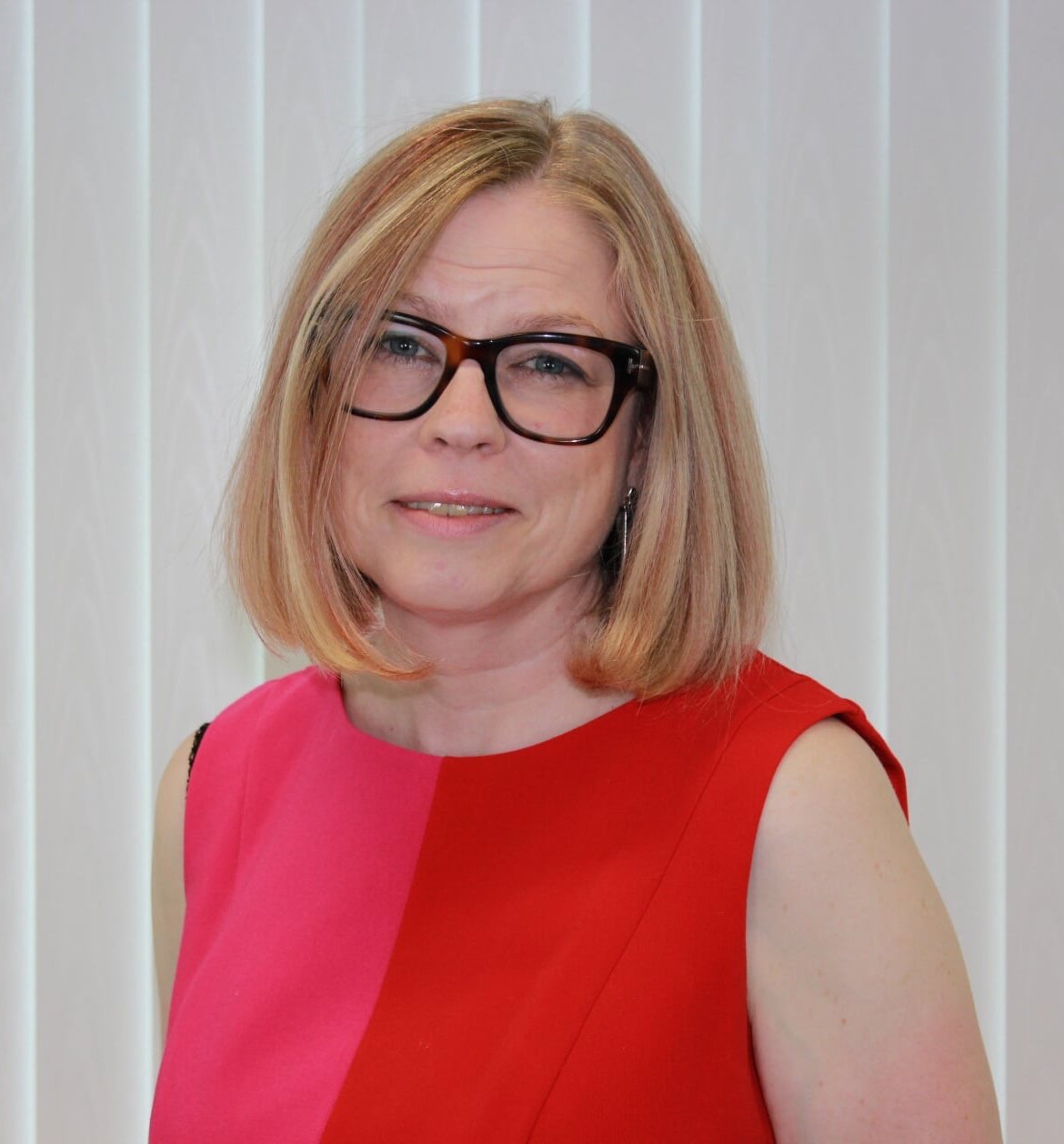 The starting cost of the Triaster Online Platform can be easily found on our website, as it comes in three clearly priced and easy to understand systems (Standard and Professional).
However, certain services can be upgraded and downgraded and there are additional services to suit specific needs, so determining the actual cost for your organisation requires understanding of the specific BPM software system and services that you need to meet your objectives.
To help you with this, in this article I have explored both standard pricing plans and custom options giving you an indication of what each is needed for...
Triaster BPM Systems
The Triaster systems are made up of:
An Online Business Management System
Managed Services for Infrastructure and Support
On-boarding Services
Optional Services for Process Mapping, Design, Technical, Analysis and Improvement
Let's start by looking at each in turn…
BMS Online: Standard & Professional Systems
The Triaster Platform is offered in two online (or in the cloud) systems: Standard and Professional.
Each system offers, as standard, an easy-to-use secure website presenting all processes, policies, forms and guidance documents according to the functionality that your organisation needs.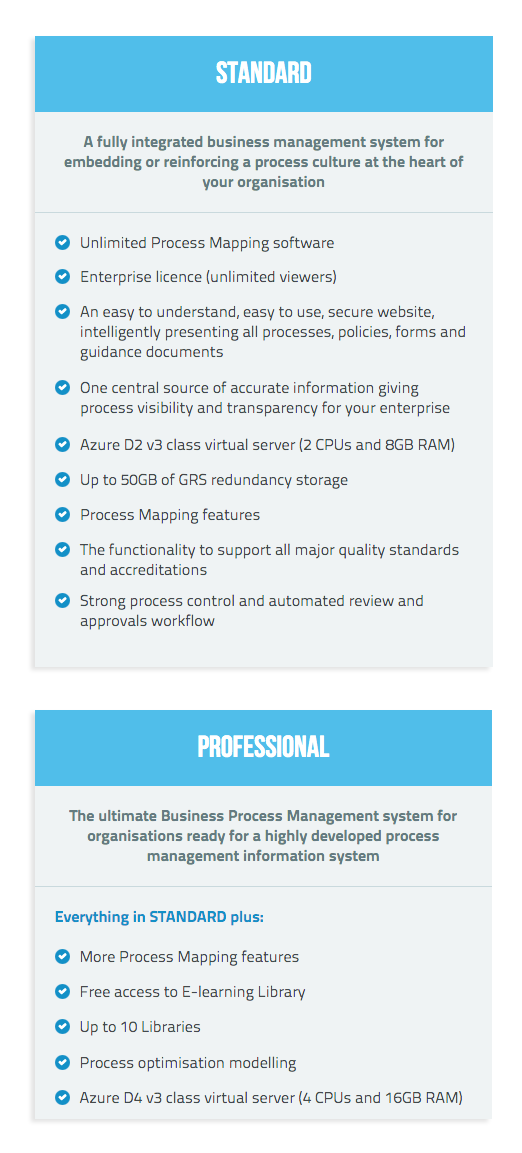 Each system offers different functionality to deliver on the following requirements:
Sharing Processes

Drive-up Process Adoption

Finding Your Processes

Controlling Your Processes

Improving Your Processes
A full and comprehensive list of what each system comprises is broken down on in the System Comparison matrix on the pricing page. It is quite long, so do make sure to scroll right to the bottom for a full explanation of the process features that deliver on the requirements mentioned above.
The Cost of Triaster Online BPM Systems:

(All costs net of VAT and expenses).
As on our website pricing page, we have set out the monthly cost of each system above and the required (one-off) on-boarding services costs are shown just below that.
If you would now like an accurate price quote for your organisation from a real live person then please contact us or please read on for an explanation of our services.
Each system comes with a different managed services package which you can upgrade or downgrade to your liking...
Managed BPM Services: Infrastructure & Support Services
The Managed BPM Services packages that are offered, vary according to the System purchased.
For a comprehensive list of the managed infrastructure and support services, please go to the Managed Services Comparison Matrix on the Triaster Platform page and scroll down.
Optional BPM Services
In order to decide what additional BPM services you need, firstly, think about what you are wanting to achieve and if you have the resources available to do so.
It may be that you are purely looking for a process library (a single source of accurate information), but even so, purchasing our process mapping services is highly recommended.
Process Mapping
A key component of any successful BPM system is the content. Process Maps created in Microsoft Visio can be shared with all three of the Triaster BPM systems, but a key question to ask yourself is, do we have both the expertise and sufficient resource in-house to capture accurate, useful content?If not, you will need to purchase process mapping services and factor in the cost of these.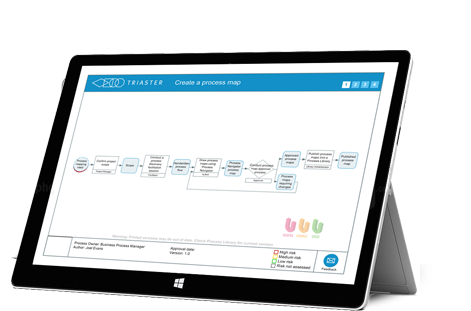 All process mapping services are delivered by Triaster's sister company Libreea, for full details of their service options please click here: Triaster Services Provided by Libreea.
Design, Technical,

Analysis and Improvement Services - The Best of BPM
We also offer design, technical and professional services, to best support you with achieving your objectives.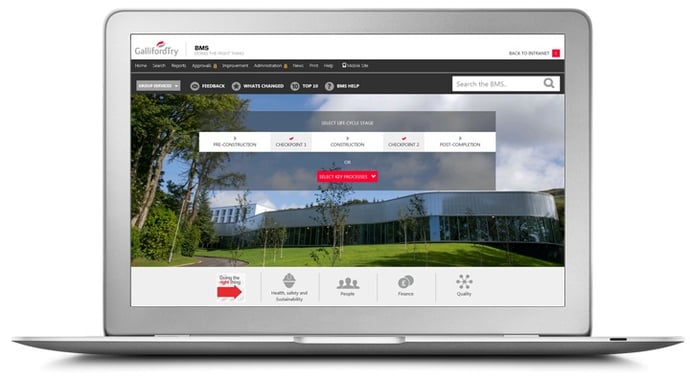 A really popular service is the design of a bespoke front-end or Home Page for your BPM system. This enables the system to really appeal to its intended end users and incorporate familiar branding. It costs £13,000 per design, on average.
If, for example, your BPM objective is cost reduction you may well need some help with business analysis and process improvement. Triaster's sister company Libreea offer both of these, for full details of their service options please click here: Triaster Services Provided by Libreea.
Technical services covering, for example, Search customisation and system feature customisation are also available, costing £162.50 per hour.
For the full list of all additional services offered and the costs associated with these, please visit our Services table.
On-premises BPM systems
The Triaster systems are typically hosted online, or in the cloud. There are many advantages to this, especially in reduced infrastructure costs and installation time - our aim is to offer you the best of BPM in your organisation.
However, for those organisations that do not want their data held in the cloud, we do offer the Standard and Professional systems hosted on-premises.
The Online and On-premises offerings are the same - and cost the same - except for:
Robust, secure, ISO 27001 compliant, managed infrastructure services and support are not included in the on-premises version; however, there is a mandatory on-premise support package.
Some additional services are applicable just to on-premise systems. Full details of these and a comparison of Triaster Online and On-premises systems is available by clicking here (Again don't forget to scroll down.)
Fancy a Quote?
I hope this article has helped you to acquire an understanding of our pricing structure. If you would like to receive a free quote or to discuss which Business Process Management vendors would be the most suitable to your organisation, then please call us, email us or register for a webinar.
Related articles:
7 Key Questions to ask when shopping for Business Process Management software
Emma was Operations Director for Triaster for nearly 20 years, during which time as well as learning and perfecting her BPM and process improvement skills, she honed her inbound marketing expertise. She now runs D2e - Designed to engage - which designs and develops bespoke, engaging, HubSpot CMS websites, that help your entire company to grow and scale. She is delighted to still be delivering Triaster's marketing, whilst also helping other companies turn their websites into their hardest working asset.