The Top 10 Benefits of Process Mapping
Carma Cooper
26 October 2017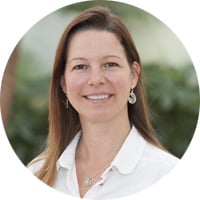 The benefits of process mapping in your organisation can be vast and, if done properly, will often provide a substantial return on investment in time, money and effort. Read through our 10 commandments of process mapping to learn about the benefits of process mapping software and how business process mapping can become one of your most valuable continual improvement tools.
Why use process mapping? Here are the top 10 reasons:

1

. Visibility of Your End-to-end Processes
Process mapping end-to-end processes in the organisation helps to break down the silos by giving employees visibility of what they deliver and how it impacts not only other areas of the business but also ultimately the customer. Process mapping helps employees understand where they fit within the organisation and how they work as a cross-functional team.
I would also suggest, if you take one thing away from this blog, you download this
. The report has already helped many organisations get process mapping right from the start and will provide the information needed to model your processes easily, effectively and improve your organisational processes.
Inside the report you will find:
How process mapping opens a pathway to successful business improvement in a real, measurable way

How process mapping creates simplicity, accuracy and accessibility in an

organisation

An easy to understand process mapping methodology; and

Tips for a successful process capture and mapping implementation
Click here to
.

2. Evidence Change
Let's not change for change's sake. Map the AS-IS process and use this as a baseline to look at alternative ways to do things (TO BE variants). You could even store meta-data such as cost, total effort and waiting time against the activities so that you can be sure that the suggested changes are truly going to add value to the business through reducing cost, reducing duplication and improving the overall service to the customer.
3. Show Process and Activity Owners
Everyone in the organisation performs a process, but who is ultimately responsible and accountable for specific activities? Process maps can provide visibility of who is responsible and accountable across the organisation for specific process steps and show ownership for the overall process.
4. Support Induction and Training
Process maps are also a great resource for induction and training. What a perfect way to communicate best practice through an approved process map. Through a Triaster Process Library, employees can search for processes based on their job role too!

5. Find a Process Mapping Tool That is Useful, Usable and Used
Process mapping tools typically have a bad reputation because the process maps are rarely used beyond the change project(s). No wonder staff groan at the thought of using process mapping tools because they have all 'done it before' and 'never saw the process maps again'. The key is to ensure the process maps 'live' past the change project(s) by making the processes reusable (see #6) and sharing the processes across the organisation; however it is important to ensure that the process maps are easily accessible, easy to understand and accurate.
By doing this you will ensure that the maps are useful to everyone concerned, accessible to key stakeholders and actually get used by the team. The 3 u's White Paper explains Useful, Usable and Used and how you can integrate your team with process mapping.
6. Re-purpose/Re-use Process Mapping
Process maps can be used for so many things:
Change

programmes
Induction/training
Visibility of process ownership
Visibility of who is responsible and accountable for activity steps
Cross-functional (end-to-end) process visibility
Can serve as the business/integrated management system
Help customers understand how processes are delivered to them
This list goes on…
7. Show Compliance and Continual Improvement
Process maps can be used to show compliance to regulatory standards such as ISO, FCA and SOX to name a few and will also serve as a valuable resource for internal/external audits.
Meta-data can be stored against the process or activity step to show where the organisation is compliant to specific clauses or to evidence proper controls in place. In addition, with an applied process governance, the organisation could show the trend of continual improvement by building a history of changes to processes.
In addition, this would ensure the organisation does not inadvertently revert back to 'old ways of working' as there is evidence as to why and when and by whom the process was changed in the first place.
8. Business Process Analysis: Identify and Mitigate Risk
Process maps can be used to identify and show where Risk has been identified within the business and what controls are in place or need to be in place to mitigate the risk. Sharing visibility and educating employees of risk areas and controls will prove invaluable as knowledgeable employees will become proactive to mitigate the 'risk' rather than reactive.
9. Support Operational Excellence
Give employees a chance to find the answers themselves rather than asking their colleague or line manager. Process maps can be a valuable source of information and can link to:
procedures
guidance note/work instructions
forms
videos
or anything that will help the employee to do their job
However, as mentioned in #5, processes must be accessible and accurate, which is why you might want to invest in business process mapping software that is more accurate and holds the mapped processes in a single, accessible system.
10. A Process Mapping Software That Gives You a 'snapshot' of your business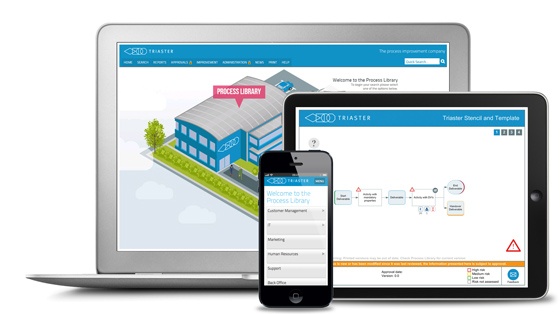 Mapped processes provide everyone in your organisation with a snapshot of how you do business today, and offers a mechanism to look at how you could do business tomorrow, more efficiently.
If you want answers to your specific business problems then take our quick 6-question survey which will help us get back to you with more tailored resources to solve your unique business problems.
Related Articles:
How Will Process Mapping Help an Enterprise Resource Planning System?
How To Approve a Process Map Using the Triaster Platform
5 Process Mapping Tips: Getting People On Board, Not Making them Bored
5 Business Process Mapping Tips for Getting Your Entire Team Involved
Note:
This is an updated and refreshed version of an article originally written by Carma in February 2016.
Carma Evans has been at Triaster for just over twelve years (although known as Carma Cooper for much of that time). We don't think there is a role at Triaster that Carma hasn't done at some point (apart from development!) but she seems particularly suited to her present one: Client Services Director.