How To Process Map: A Tutorial (Video)
Brad Fagan
13 December 2016
Process mapping can help you drive forward process improvement in your organisation and even make a pancake: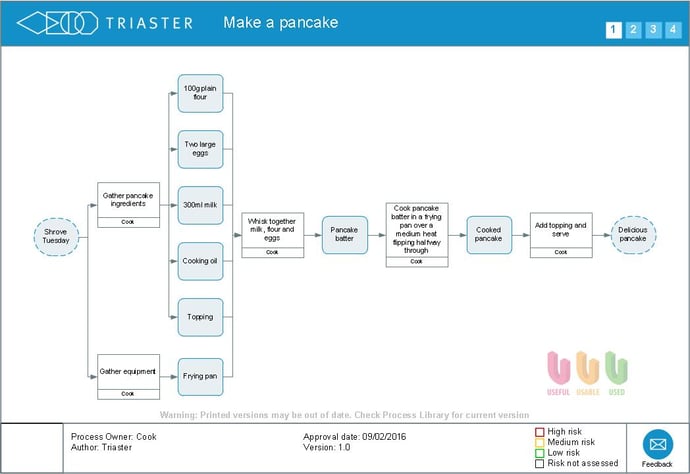 The opportunity for employing a process map appears to be endless.
With that in mind, if you have a Business Process Mapping system, or simply want to make your own processes a little more structured, you could learn how to create a process map in our process mapping tutorial.
In our video below, we have kept our process mapping steps at a 'high level' meaning that it's process mapping at its most basic form.
If you have an automated system, you could include multiple drill downs or continue across with another step.
For example, in this process mapping tutorial we explain how to 'make a hot beverage' but there's no reason you couldn't link this to the next process in the chain, 'consuming a hot beverage'.
We hope you find this video on 'How to Process Map' both informative and helpful:
Thanks for reporting a problem. We'll attach technical data about this session to help us figure out the issue. Which of these best describes the problem?
Any other details or context?
message
Please enter your details to view our process mapping tutorial.
We respect your privacy and won't share your information with anyone else.
Error text
For more on process mapping, take a look at our free process mapping report below:

Or leave us a comment below and tell us what video you'd like to see next.
Related Articles:
Documenting information: Process map or procedure?
Can I use Microsoft Visio process maps with Triaster?
Value Stream Process Mapping in a BPM System
How To Maximise Value in Your Process Maps Using the Triaster Platform
Brad joined Triaster in 2016 as our Content Marketing Executive hailing all the way from Middle Earth (the film version, not the book) – New Zealand. Brad's video skills soon resulted in new weekly Triaster videos and his individual touch in some of the Connector and blog articles. In June 2018 Brad moved to Germany with his wife Lynn.