How to Increase Staff Engagement and Ownership Over Business Processes
Lynn Dudenhoefer
7 December 2017
Triaster customers who are keen to increase staff engagement with their Business Processes tend to ask the same question: "How do I get people to take ownership of their processes?" Fortunately, having implemented Business Management Systems in various business arenas over many years, we have some golden rules to help you to achieve just that.
Ownership and Accountability Issues
When spending any extended time on a customer site, we often hear the words, "we struggle with accountability", "people are not held accountable" and "we have tried to embed a culture of accountability numerous times before with no success". All ways of saying that process ownership is absent. It is clear to me that many businesses have this problem and thus wish to increase staff engagement and ownership over business processes.
Capture and document your business processes by process mapping
It is much easier to get people to take ownership of their processes if they have played a part in helping to document them in the form of a process map. This can be done with their team acting as the subject matter experts.
For more information on process mapping, please read our article: Process Mapping: who does it and why?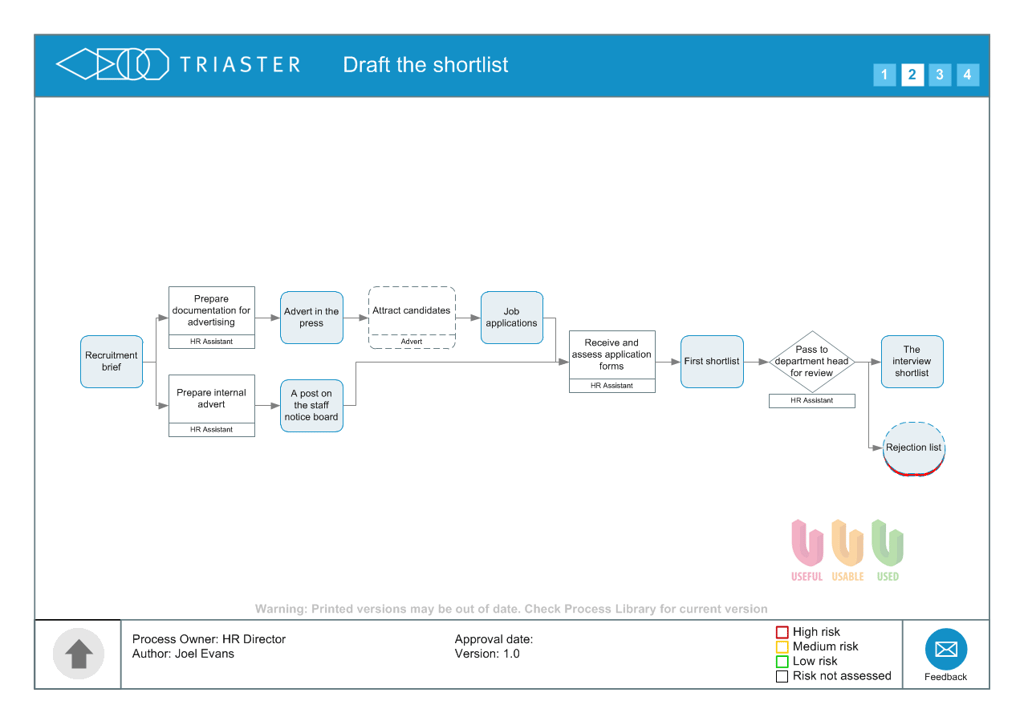 For more information on getting people involved with process mapping in your business, you can have a look at this article:
Capturing a Business Process: 3 tips for Process Discovery workshops
At Triaster, we define a Process Owner as 'a person who has the authority to change a process'. This should give you a clear indication of who should be assuming the role of process owner for each of your processes.
Use metadata to increase process ownership
Once you have the processes documented in the form of process maps, we'd recommend applying metadata to the maps. This just means adding to the process maps specific data about who is the process owner so that it is clearly identified and visible – not least to them – and is key.
To do this, compile a list of the Process Owners in your organisation and attach these names, or their corresponding job roles to the process maps. This way, the person responsible for the process is absolutely clear - to everyone.
Keeping this list up-to-date is crucial, so we would recommend setting up a scheduled call/meeting with your HR department to clarify if there have been any movers or shakers within the organisation and complete a data cleanse off the back of this.
Increase staff engagement with a Business Process Management system
Capturing the organisation's end-to-end processes and the Process Owners is not enough on its own however. It is important that this information is visible to the whole organisation. The easiest way to do this is with a system that is accessible to the whole organisation - on your intranet for example – and has excellent search and reporting capabilities so that it is easy to use and therefore is used.
Communication drives engagement
Having established who your Process Owners are, it is important to communicate what is expected of them. Your Process Owners will have all sorts of improvement ideas in mind and the ability to drive them forward will drive engagement and ownership. However, a framework approach is needed to ensure that improvements are in line with the overall business strategy and approach. For example:
Is your organisation implementing Continuous Improvement?
Do the process owners have senior support to implement incremental improvements to their processes?
This needs to be clarified and communicated.
Keep your process documentation current
Given that your process maps are the key source of information on how your organisation works and who is responsible for what, it is important to keep them up-to-date and accurate. We recommend that all process maps are reviewed once a year, and that this is the Process Owners' responsibility. Building in review of the actual process at the same time, drives continual improvement and process ownership by making the exercise a real value add.
I hope that you have found this article helpful. As I expect that you have gathered, the company that I work for, Triaster, supply a Business Management System which enables and supports these golden rules.
If you are interested in learning more please feel free have a look at our
or simply...
Related articles:
Process Mapping: Who does it and why?
How do I create a culture of Continuous Improvement?
Problems with Business Process Management: Getting Employee Buy In
Note:
This is an updated and refreshed version of an article originally written by Joel Evans.
Lynn joined Triaster in November 2017 as the new Inbound Marketing Executive. Prior to her work with Triaster, Lynn worked in content management and studied at the University of Oxford. In June 2018 Lynn returned to Germany with her husband Brad.