How a Process Library Can Solve Business Efficiency Problems
Brad Fagan
29 March 2018
If your organisation is having business efficiency problems or you just want to improve what you already have, you need to consider getting a process library. Having a process library ensures that employees are performing the same process using the same process methods. A great misconception in business today is that efficiency problems are largely due to a lack of employee engagement but if you don't have a standard way of working, the same task will be performed 10 different ways by 10 different people.
In this article, we take a look at what a process library is, how a process library can store documents, help you standardise your way of working and dramatically enhance your business efficiency (using an interactive Process Library example).
What is a Process Library?
A Process Library is a Business Management System. However it is for more than just a place to store documents. Process Libraries contains process maps that describe:
The tasks to be performed - in the form of policies, guides or process maps
The deliverables produced - the outputs captured using templates provided
The process workflow - the inherent dependencies
How the work is to be performed - techniques used
The tools that will be used to perform the work
Employee roles and responsibilities
Metrics used for improving the process
Process libraries can be easily searched and report on the information that they hold in ways that support business efficiency, for example with RACI reports and reports on how much each process costs.
What Problems Can be Solved With a Process Library?
Many organisations don't understand how much they need a document management system - a process library. Of the frequently asked questions I receive most at Triaster, the 15 most common ones are: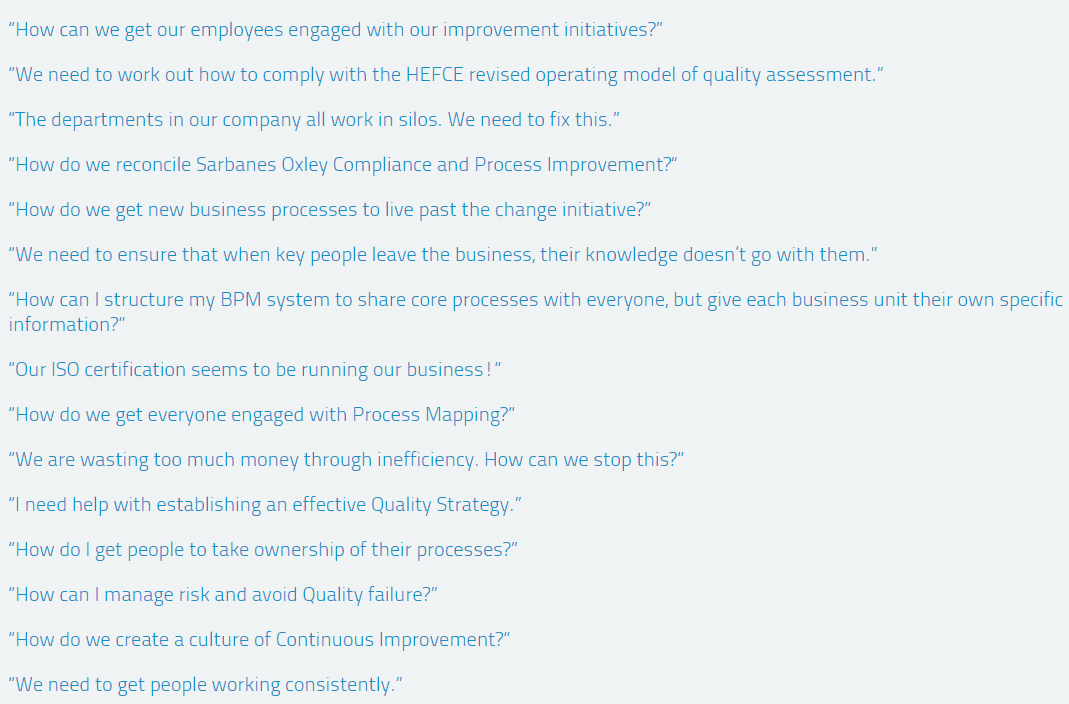 If you'd like to take a more in-depth look at the solution for each of these problems, visit the Problems We Solve page on our website.
All these problems can all be solved by implementing a process library - and making sure that the process library is useful, usable and used to increase business efficiency.
I put it another way, think about your own organisation. How many problems could be solved by creating a single way of working for all business processes? How many efficiency problems could be solved by making processes easily accessible to the staff that need them throughout the organisation? Process Libraries don't just store documents, they change organisational culture.
If you would like to see how New Charter managed to save £350K per annum with their process library, take a look at the
.

How Can a Process Library Help an Organisation?
Implementing a process library could help any organisation to:
Break down silos
Keep knowledge in the organisation, not in the person - when key people leave their knowledge should stay in the organisation
Grant access to specific employees to documents that impact their process areas
Support culture change and business efficiency
Create greater employee responsibility and ownership of processes as a result
Documenting processes within a library captures a current process as it is so you can identify improvement opportunities
Ensure your business management system is useful and used.
Make sure process changes are useful and deliver improvement
It is especially important to cater for the last two points because if your process library doesn't look great and feel easy to use it won't get used.
Process Libaries > Cultural Change > Continual Improvement = Business Efficiency
Process Libraries
If you take a look at some of the organisations we have worked with, each one collaborated with our designers to produce a unique management system structured in such a way that it would be useful to their employees.
To see the process library designs that we have created for many different organisations, take a look at the Triaster process library showcase; and to see how the organisations above implemented business efficiency in greater detail,
which chronicles the improvement journey of 8 organisations and how they went from business problem to business improvement.
Cultural Change
To deliver the benefits explained above, a process library must sit at the heart of the organisation because if it is seen as an optional add-on they won't get used and they won't create any sort of change.
This is why our customers work with our designers to create a process library that presents their organisation's unique business management structure in a library that will have broad appeal and usability throughout their organisations.
Simplicity, structure and layout are key for employees to work efficiently and adopt a management system as a standard way of working.
Continual Improvement
You cannot improve processes before:
- You know what they are - if you don't know how a process is broken or inefficient then you won't be able to fix it.
- You have a standard way of working in your organisation - you can create the most efficient and least wasteful process on the planet but unless it's being used by employees who actually carry out the process then it's just a big waste of time and energy.
Continual improvement only exists where the process is captured, shared, used then improved - this is known as the 4 pillars of continual improvement. For more on this, read our article on the 4 pillars.
Interactive Process Library Example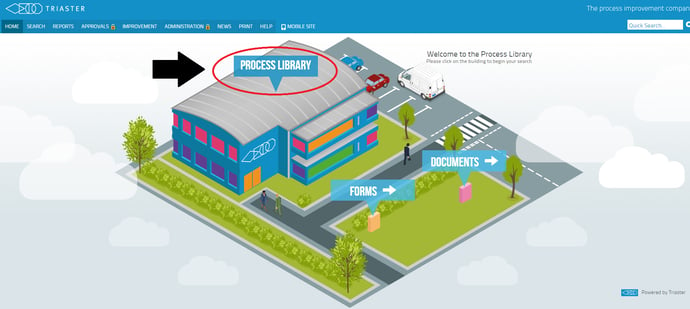 Take a look at the interactive process library example in the image above. When we click on 'Process Library', it takes us to...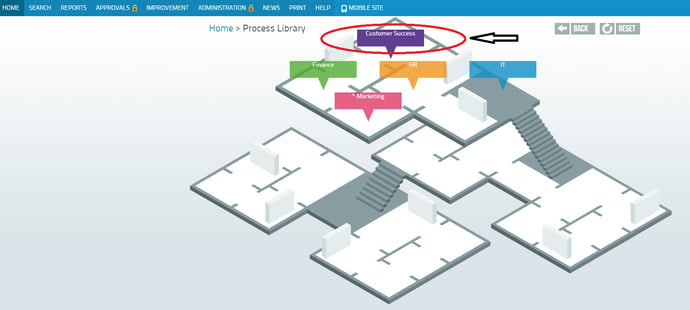 the process library page displaying different processes for different departments. If we click on the 'Customer Success' department it takes us to...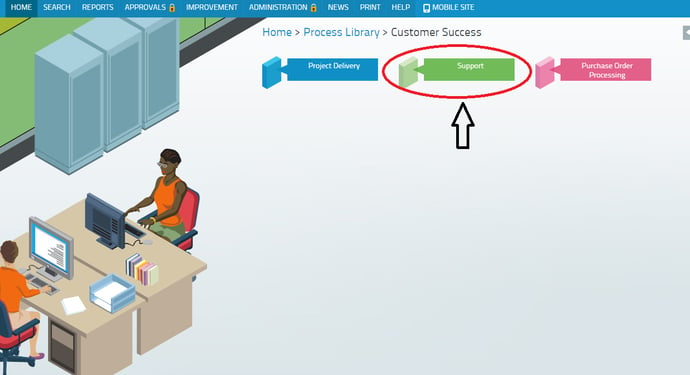 the Customer Success page displaying the process types for the customer success team. If we then click on 'Support'...

We are taken to the Support page which houses all the processes that exist in the Support folder.
The structure of the process library exists so that employees can easily and quickly find what they are looking for in a structured, interactive and engaging way.
If we then click on 'Escalate an Issue' it will take us to the corresponding process map.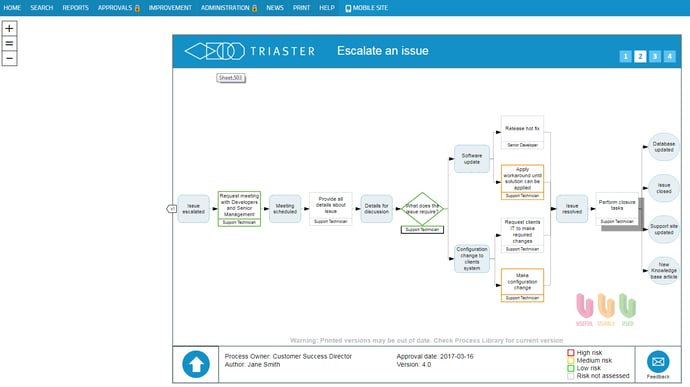 Each process has a process map displaying how the employee should perform that specific process. In this case, the process is 'Escalate an Issue'. If we zoom in a little closer...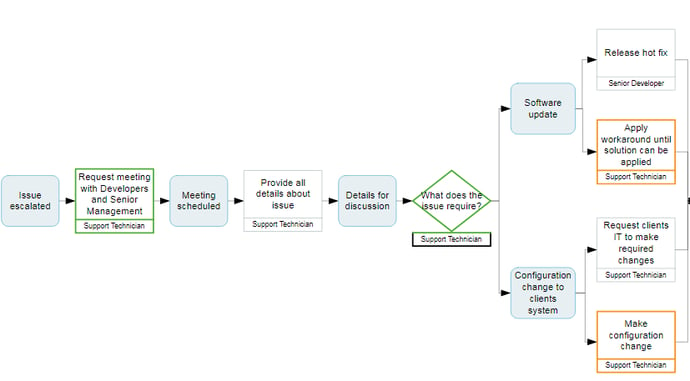 you can see how a process is captured (using the Triaster Noun/Verb methodology) and how a process should be performed. The shapes within the process map are different for a reason. Each shape represents either an activity, deliverable or a decision (all three are shown in the picture below).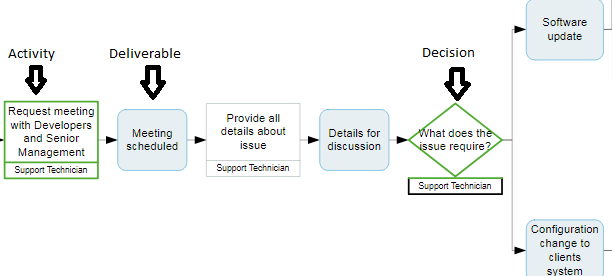 This makes it easy to understand which steps in the process add value and which do not. You can calculate the value within the process steps (shown as shapes above) by clicking on the specific shape required and recording cost, effort, frequency of occurrence, risk, queue time and the value stream status of each activity which is shown in the image below.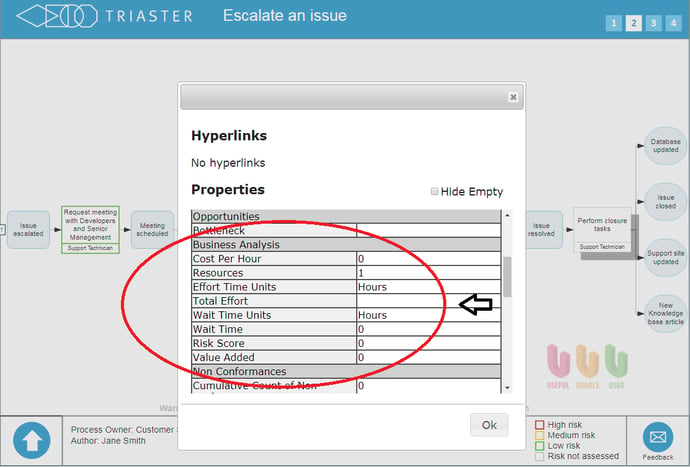 This recording will allow you to understand the value adding, non value adding and necessary non value adding steps in the process chain.
Take a look at this interactive process library example to get the full scope of what process libraries can do; this is the same library we have taken all of the above images from. You can either follow the steps we have just described above or have a play around and look at other areas (which contain other processes, policies and forms).
Successful Process Library Case Studies
Now that you understand what a process library is and how it can help improve business efficiency (in theory),
which chronicles how 8 organisations used their process libraries to put the pillars of continual improvement (capture, share, use and improve) into practice to improve their business processes and increase business efficiency.
Related Articles
The Process Library Checklist: Integrate Your Team With Your Process Software
Brad joined Triaster in 2016 as our Content Marketing Executive hailing all the way from Middle Earth (the film version, not the book) – New Zealand. Brad's video skills soon resulted in new weekly Triaster videos and his individual touch in some of the Connector and blog articles. In June 2018 Brad moved to Germany with his wife Lynn.