Business Process Management vs Enterprise Architecture: Pros & Cons
Isobel Witts
15 June 2016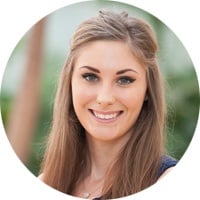 Business Process Management (BPM) and Enterprise Architecture (EA) are two highly contrasting systems, which have very different applications in business. Which one you choose will ultimately depend on the unique goals and objectives of your organisation as well as what you are looking to achieve both in the short and long term.
In this article we will look at each of these in turn and then weigh up some of the pros and cons associated with each system.
What is Business Process Management (BPM)?
Business Process Management is an approach that focuses on capturing and improving business processes to make an organisation more efficient. This can be achieved by first capturing an organisation's current-state end-to-end processes, and then documenting the steps in process maps. An example process map can be seen below.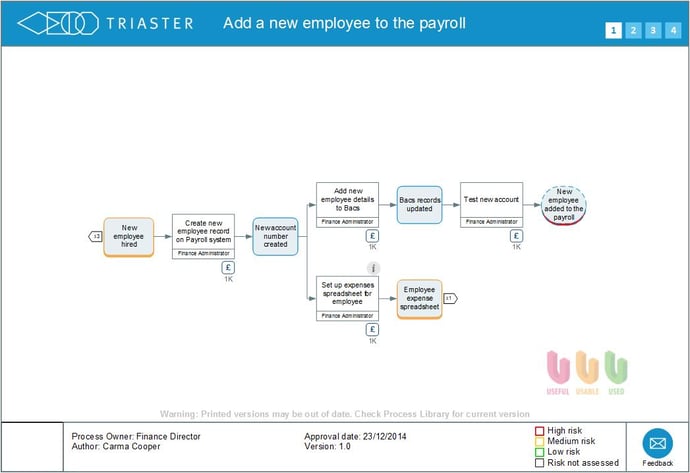 Once a department's processes (or even the organisation as a whole) have been mapped out, you can begin to see where the inefficiencies and bottlenecks lie. This insight allows you to make informed changes to each process to reduce costs and improve overall efficiency.
Most companies, when undertaking a business improvement initiative, will consider implementing a dedicated BPM system to help them model, analyse and optimise processes to drive the business transformation forward.
What are the pros of using a Business Process Management system?
There are many benefits that come with using a dedicated BPM system, especially once you have a clear idea of what processes exist in your business and how they are performed. As mentioned above, once all of your business processes have been mapped out you can begin to analyse them to discover the areas that need improvement and set a plan in motion to start making the changes based on data-driven evidence.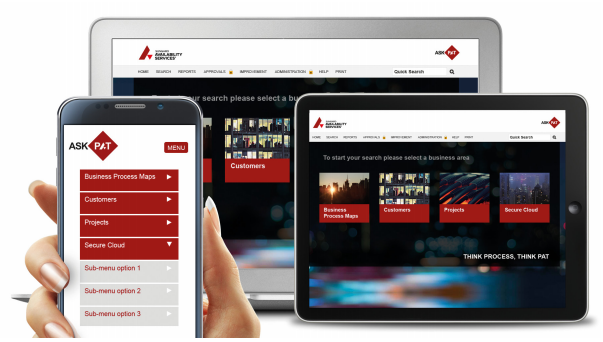 Some other benefits include:
Creates a 'one-stop-shop' for a business' processes, procedures and documents

Makes sure that all employees in the organisation are carrying out the processes in the same way

Identifies bottlenecks so that process improvements can be made

Gives insight to achieving significant cost reductions based on continuous improvement of processes
If you would like to learn more about the benefits of business process management and what challenges it can solve, please read the selection of articles below:
What are the cons of Business Process Management software?
If implemented and used correctly, there aren't many limitations to using a BPM system; however before you even begin to consider purchasing one, you need to clearly outline what you want to achieve and make sure that your chosen BPM system will support your business improvement initiatives.
There are many excellent BPM systems out there, all of which cater to a variety of different business needs and budgets. To find out what questions you need to be asking potential software vendors when going through the evaluation and buying process, read our article:
7 key questions you need to be asking when shopping for Business Process Management (BPM) software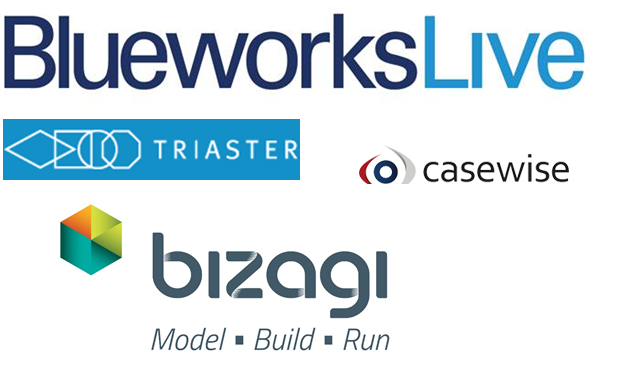 If process improvement is not high on your priorities right now, and you are more interested in finding out how your business works and the interrelating systems it uses, then Enterprise Architecture may be more suitable. We'll cover this in more detail shortly.
The biggest limitations with BPM software tend to be:
A limited understanding of your existing business processes

Your employees not following the processes or using the system at all

Limited or no stakeholder support for business improvement
A BPM system will only be successful in your business if:
Senior stakeholders are involved from the very start and are in full support of the project
Your system is used consistently and continuously by everyone in your organisation
To learn how to make your BPM system as successful as it can be, download our free white paper:
The 3 'U's of Great Process Libraries
What is Enterprise Architecture (EA)?
Enterprise Architecture is a detailed overview of a business's processes and how they relate to the IT infrastructure. It is essentially everything a business does, how it does it and the systems it uses. This is a very complex system, but if implemented and managed correctly, will be invaluable to your business.
EA software also has dedicated business analysis capabilities and allows an organisation to plan and execute new strategies effectively and with little impact on the rest of the business.
For a review of a couple of leading EA software providers and how they can be used as part of business process management, read our article:
A review of Casewise vs Aris: Which is the best Business Process Management (BPM) software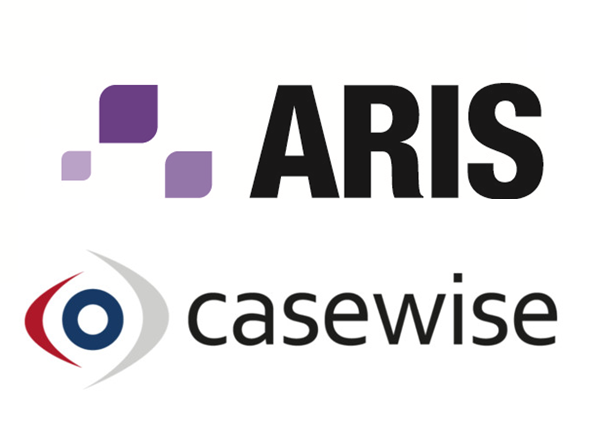 What are the pros of using an Enterprise Architecture system?
There are some obvious benefits of using EA software, including the ability to see how each business process relates to the organisation as a whole and the different systems that are in place to support them. This is immensely useful for future planning, which is particularly useful for the planning and execution of long-term business strategies.
Some other benefits include:
Helps to enforce discipline and standardisation of business processes

Enables project management and prioritisation according to the needs of the business

Enables of reduction of risk to business from IT system failures

Allows for business analysis and improvement based on data-driven evidence
What are the cons of Enterprise Architecture systems?
The biggest downside to EA software systems is that, with so much functionality, they are expensive. Of course there are variations in price depending on what you are looking for specifically, but as it is such a complex tool, it is not just monetary costs that are high.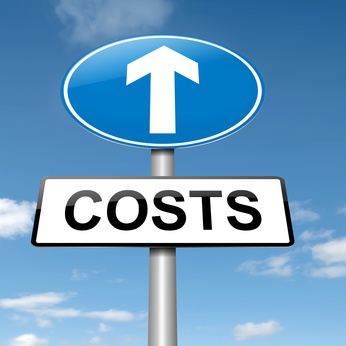 Image from: www.ronedmondson.com
To really get the best out of an EA system, you will need to put in a lot of man hours to ensure that it is implemented correctly and that the system is managed and maintained over the lifespan of your project. These costs add up quickly, but if the implementation is a success, the benefits to your business will surely outweigh that initial large expense.
However, some other limitations of EA software are:
It's a highly complex system that requires lots of training

It's quite easy to lose the scope of your project, which may result in over-spending resources

It can create a culture clash within the organisation if not implemented correctly
These are all very minor points, and providing you have an implementation plan in place, you should be able to mitigate the risk of these issues occurring.
BPM vs EA: Which one is best for your business?
Well, as mentioned at the start of this article, the best software tool will depend on your business needs and objectives. If you are looking for a complete and detailed overview of your business so that you can analyse and manage every aspect, then an Enterprise Architecture system may be worth considering, and if you have the budget and internal resource available for a large-scale implementation then this is definitely something to go for.
However, if you would prefer to have a better understanding of your business processes so that you can implement a continuous improvement initiative then a Business Process Management system may be more suitable. These systems are often scalable so that small projects can be started in one or a few departments and then extended to cover the rest of the organisation, allowing even small and medium businesses, where budgets and resource are limited, to benefit from BPM and achieve a culture of continuous improvement.
We hope that you have found this article helpful. With our many years' experience in developing and implementing business process management systems, we understand that getting the right system for your business needs is key to the success of your improvement initiatives. Whilst we appreciate that we may not be a good fit for every organisation, if you would like to learn how Triaster can help you with your business process management and improvement challenges, we'd love to hear from you.
Related articles:
7 key questions to ask when shopping for Business Process Management (BPM) software
Change Management vs Continuous Improvement: Which is the best for your business
A review of Casewise vs Aris: Which is the best Business Process Management (BPM) software?
How to stop wasting money in your business: 10 cost saving tips
Isobel joined Triaster in September 2014 as our Customer Success Administrator. After about a year in the role she decided marketing was where her main interest lay and she began working with Emma as a new Triaster website was developed and the Triaster blog was started. The move was very successful, resulting in her moving full time into a marketing role, firstly at Triaster and subsequently for a local marketing agency.