The 7 Wastes of Service That Are Killing Business Efficiency
Michael Cousins
23 September 2021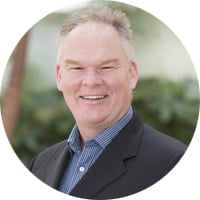 You may already be aware of the 7 forms of waste in the manufacturing industry, first defined by Toyota; but what about other industries where specific types of manufacturing waste aren't relevant? In this article, I explore the 7 wastes of service and how you can identify them to improve business efficiency.
Defining 'Waste' in the Service Industry
In any industry, identifying waste can prove a challenging endeavour as you cannot always spot inefficiencies with the naked eye. Toyota's Seven Wastes of manufacturing was a game changer for manufacturing companies in terms of maximising efficiency throughout the production process. However generally the payoffs have not been nearly as dramatic for service industries applying lean principles. In fact, a surprisingly high proportion of service industry processes are wasteful without anyone noticing.
The good news is that the Seven Wastes methodology can be applied to the service industry, it just take a little thought.
The 7 Types of Wastes in the Service Industry
So what are the seven wastes that are typical in the service industry (which are occasionally also broken down into eight types of waste of, which then includes the 'waste of human potential')?
The 7 types of wastes in the service industry are: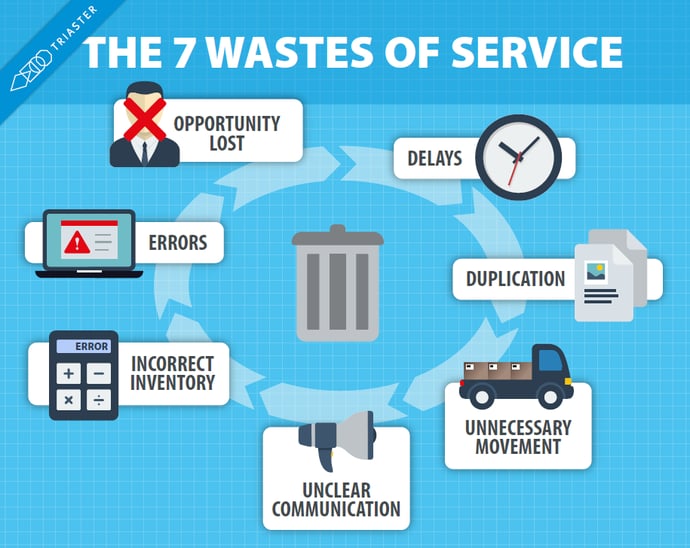 Delays - delays in providing the customers with information, a product, or a service:

such delays can take many different forms (e.g. waiting in queues, waiting on hold on a phone, etc.)
identifying your own organisation's delays is crucial, as these delays can cause your customers to choose your competitors' services

Duplication - filling in multiple forms with repeated data:

this waste can be highly interruptive to the efficiency of your customer service model
it is essential to cut down on duplication as much as possible - your business' customers will perceive it as annoying, time-consuming and unnecessary

Unnecessary Movement - unnecessary segmented points of communication:

making the customer journey as comfortable as possible is the recipe for success
if your customers' experience is too segmented (e.g. having to contact different internal departments in order to access a service), they may lose interest along the way

Unclear Communication - unclear industry jargon and unclear communication:

creating a confusing customer experience through unclear instructions and industry jargon will frustrate your customers
keeping the communication clear and straight forward will prevent confusion and mistakes, and keep your customers happy

Incorrect Inventory - Products being out-of-stock or expired:

offering expired or out-of-stock products does not only frustrate your customers but will also come across as disorganised and highly unprofessional

Errors - customer receives the wrong product:

receiving the wrong item or possibly nothing at all is a waste of both yours and your customers' resources
in order to maintain a positive relationship with your customers, it is essential to ensure that items function properly and services or deliveries reach their destination

Opportunity Lost - not recognising opportunities to 'go the extra mile':

maintaining good customer relations is crucial - treating customers in a rude or annoyed manner will ruin your reputation and result in the loss of many opportunities
make sure to 'go the extra mile' when in order to create customer evangelists and further opportunities for referrals
How to Identify the 7 Wastes in your Organisation
So now we understand the 7 types of wastes in the service industry, how do we go about improving business efficiency? The answer here is the same whatever your business or industry: identify them and reduce them in your organisation.
I cover in detail how to go about identify and reducing waste in your organisation in my article: What are the 7 Wastes that are Killing Business Efficiency? Please read from the section: How to Identify the 7 Wastes in your Organisation onwards, where I explain how to capture and improve your business processes by cutting out wastes.
Implementing your Lean Processes
A further challenge, which is particularly hard for service industries to address is, having agreed what your best practice processes should be, how do you ensure that everyone follows them?
The solution is to make following the agreed ways processes easier than not doing so.
Excellent BMS
Where at all feasible all organisations should implement a Business Management System (BMS) which not only holds - in an easily accessible way - all the information on your agreed processes, but also has built-in mechanisms to ensure that this information is accurate, up-to-date and useful.
Process Execution
Whether a BMS is right for your organisation or not, implementing a system whereby everyone has to follow the best practice processes is without doubt the best way to ensure that they are followed.

Even with a great BMS in place, which is used for training and holds all the relevant information, people can think that they know what they should be doing and still not follow the agreed processes.

So it's important to build into your systems the best practice way of doing things. This is process execution and means that everyone has to follow the agreed processes – it is the only way that they can do their job.
Ask The Crowd is a very simple way of executing your best practice processes which are set up as lifecycles. Once in place everyone has to follow them.
Once you have cut out the waste in your organisation's processes, using the Ask The Crowd is the way to stop them from creeping back in.
Related Articles:
The 7 Waste Monsters That Kill Business (Video)
10 Ways to Stop Wasting Money and Increase ROI (Video)
What is Process Mapping, Who Does it and Why Use it?
Related White Papers:
The Ultimate Guide to Business Process Mapping
The Complete Guide to Continuous Improvement in Business
This is an updated and refreshed edition of an article originally written in 2018.
Mike founded Triaster in 1994. A thought leader in business improvement, he has led Triaster ever since, spearheading its development of beautifully engineered business improvement software, that is both full of the functionality required by business analysts and that end users find really easy to use.