Process Mapping Symbols: The Key to Making Process Maps
Lynn Dudenhoefer
24 May 2018
The importance of process mapping symbols can be difficult to comprehend when you're new to process mapping, but the impact of understanding a process map and the

symbols used to assign value in each process step can completely change the way your organisation looks at business improvement.
The Importance of Process Mapping Symbols to Diagnosing Efficiency Problems
The symbols in a process map essentially highlight exactly how the process mapping picture connects. The value of the steps in a process map are represented by using different shapes that show when a process step is adding value to the company and when it is not .
Without a standard template of symbols, process maps can become difficult to interpret and lack uniformity across your business processes.
Our own Noun-Verb methodology of process mapping includes the symbols most commonly used in process mapping and is a great first step towards understanding what the symbols mean and how you can use them to build a process map. The shapes are simple and the methodology is simple. Click on the link above if you'd like to gain access to the white paper.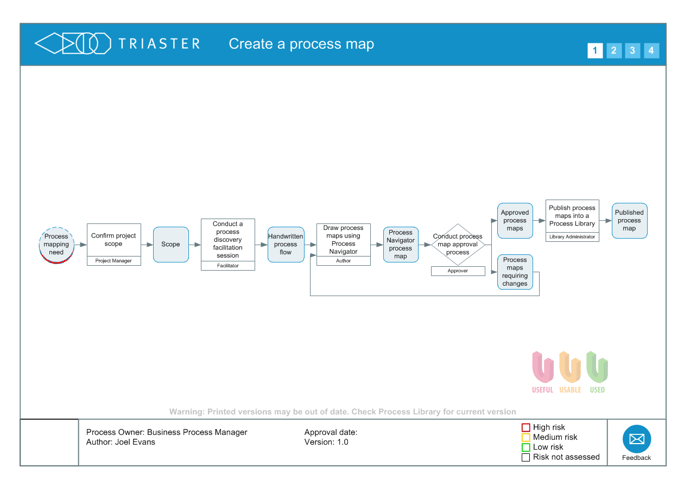 How to Make a Process Map: An Explanation of Process Mapping Symbols
Activity
An 'Activity' symbol is used to describe something you do.
Activities are the steps of the process and are described using verbs. For example, 'Update sales order with customer number'.

Connectors
Connectors are simple arrows that connect 2 or more symbols together to show the direction of the process.

External Activity
An external activity is used to highlight something that is done outside of the organisation but still needs to be shown in a process. External activities are described using verbs and transform their Inputs to Outputs.
An example might be the production of a company newsletter by an external printing company.
External Deliverable
External deliverables are outputs that are produced by an Activity that falls outside the scope of the overall process map. An external Deliverable is something that can be produced outside of the organisation, for example a purchase order from a customer.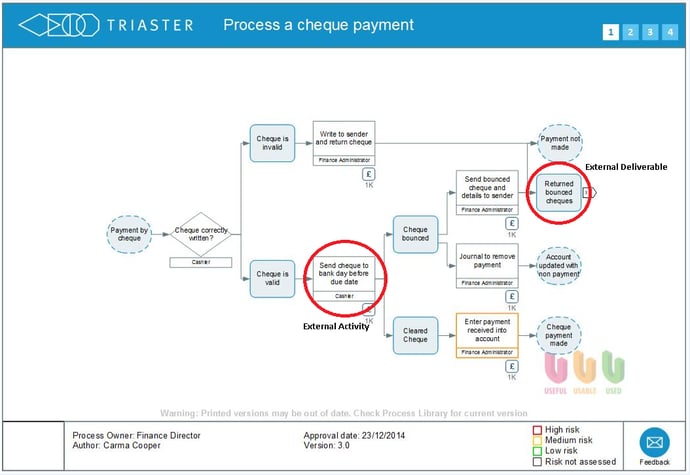 Decision
'Decision' symbols are a type of activity, usually in the form of a question, where only one of the outputs is produced.
For example, 'Internal or external customer?' may then branch into two different process pathways depending on which option is selected.

Deliverable
A 'Deliverable' symbol is used to describe something you produce and are the outputs of a process.
Deliverables are the items produced (or 'delivered') when each step of the process is complete and are described using nouns.

Off-Page Connectors
Off-page connectors are useful for overcoming the practical limitation of page sizes. It allows the process mapper to produce a logical, large 'piece of paper' containing a single end-to-end process map with all the Deliverables (outputs to inputs) linked directly to each other.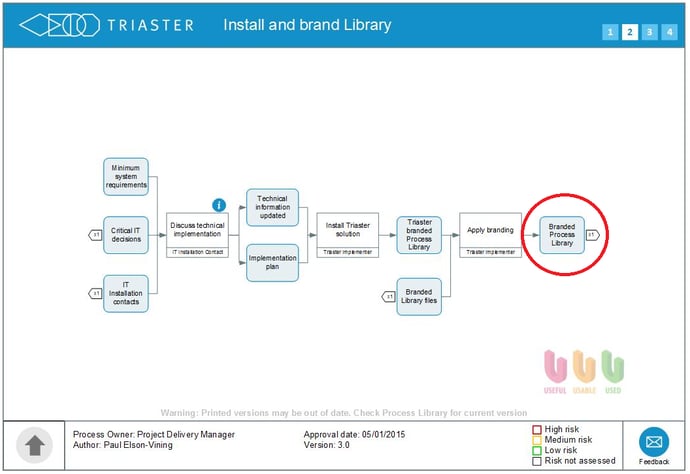 Start/End Deliverable
A start/end deliverable is a deliverable symbol that is used to signify the input at the very start or the output at the very end of a process, and shows that there are no additional steps relating to that input or output.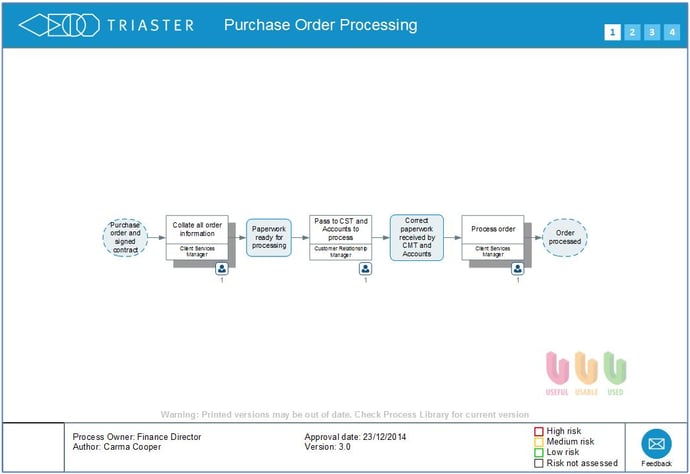 Would you like to learn more about process mapping?
If you like to learn more about process mapping and how it could benefit your business, feel free to read our
. It explores how the real ROI benefits of the New Charter Group managed to save 350k per annum and move from a paper-based to a mobile process management system.
You can also download our Business Improvement E-book, which provides helpful advice on how to save time and cut costs in your own business.
Note:
This is an updated and refreshed version of an article originally written by Isobel Witts.
Related articles:
As Is To Be: The Essential Business Model for Process Improvement
How Cloud BPM Creates Business Process Improvement Opportunities
Visio Process Mapping: Getting a Visio Compatible Process Management System
Lynn joined Triaster in November 2017 as the new Inbound Marketing Executive. Prior to her work with Triaster, Lynn worked in content management and studied at the University of Oxford. In June 2018 Lynn returned to Germany with her husband Brad.