Policy vs Process vs Procedure: What's the Difference?
Paul Elson-Vining
12 December 2017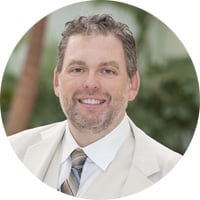 One of the questions I have been asked on occasion concerns the comparison between policy vs process vs procedure and what the difference is? Over the years, I have created a lot of business management documentation and seen a great deal of processes, policies and procedures being created by Triaster's customers. I know that deciding which information should be captured in which type of document, can be a real minefield for the author - so, in this article we answer the question:
Policy vs Process vs Procedure: What's the Difference?
If you follow the guidelines that I always use, it really is very straightforward.
I think of these documents as forming a three layered pyramid: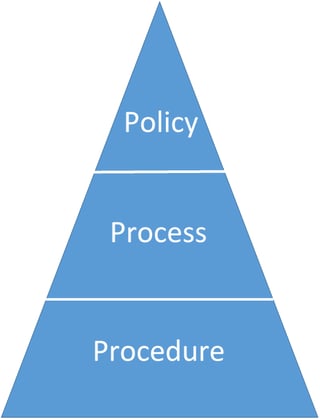 What is a Policy?
At the top of the pyramid are the policies.
A policy sets out the strategic direction of the organisation as decided by senior management. A policy will contain statements such as 'we shall' and 'we shall not', but won't give any direction on how this vision or strategy is to be executed. Policies will contain statements such as:
'Time and attendance with be tracked for all staff and contractors in a clear and consistent way.'
What is a Process?
Under the policies are the processes.
The ISO definition of a process is:
'A process is a set of inter-related activities that turn inputs into outputs'
For me, a process sets out what you do, but not how you do it. A business process for tracking time and attendance for all staff and contractors, may contain something like 'Complete time and attendance spreadsheet' but give no detail on how that is performed. There is an assumption that the individual would know how to perform the task and where to find the appropriate materials to do so. If further guidance is required it should be set out in a procedure or work instruction.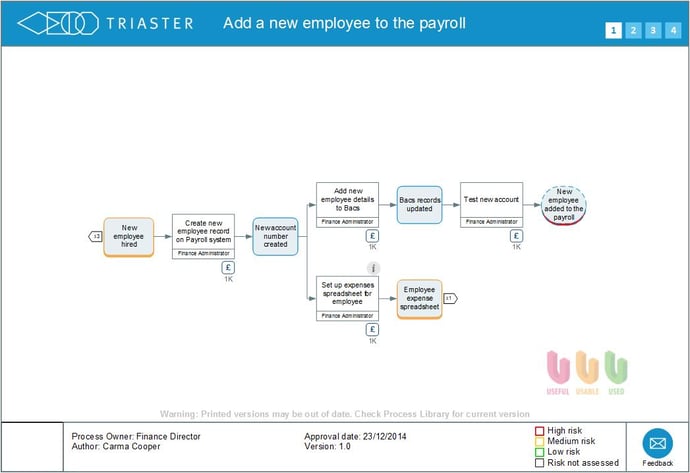 If you're not just interested in discovering the difference between a process and a procedure, but actually want to improve processes and procedures in your organisation, take a look at this Process Mapping Report which explains how to utilise process mapping for business improvement.
What is a Procedure or Work Instruction?
These are the third layer of the pyramid.
A procedure or work instruction should detail the exact steps an individual would need to go through to complete any activity detailed in a process. Continuing on the time and attendance theme, a procedure may have the instruction: 'The time and attendance spreadsheet can be found in the HR folder of the network drive. Populate the employee number and hours worked in columns C and D'
I hope that my sharing these policy, procedure and process guidelines with you has been helpful. Applied from the start, they will save you a great deal of time and give improved clarity to business management documentation throughout your organisation. They will also mean that all staff have a clear expectation of what they will find in each type of documentation and therefore where to look for the information they need.
To see an example of an organisation that I worked with to implement their Business Process Management system, please take a look at this case study...
Related articles:
The Top 10 things your Quality Management System (QMS) must deliver
What is the Noun-verb methodology of Process Mapping?
Paul is Libreea's Principal Consultant. Being field based he travels extensively, both in the UK and globally, to deliver training and consultancy. With over 15 years of experience his certifications include IRCA certified Lead Auditor for the 9001:2015, QMS Internal Auditor, TickIt plus practitioner, TPMA certified training practitioner and Microsoft certified professional. He is further developing his skill set to add Management consultancy with a Diploma from the Chartered Management Institute. Paul works tirelessly with customers to help make processes clearer. His patience and perseverance helps you prioritise and bring focus to your next steps. A key skill he has is his ability to adjust to situations: be that identifying the capabilities of the people he is training, the IT set-up he is working with or the differing outcomes that his customers are looking to achieve.